Looking to travel to South America but unsure of what to see or do? Understandable.  The continent is massive and choices are endless and overwhelming.
Fear not, my intrepid traveler, I have narrowed down My Top 7 Places to Visit in South America.
In addition to historical context and general information, I've also included 3 quick reasons to visit each place, just in case you're unconvinced and short on time.
Here are My Top 7 Places to Visit in South America:
Machu Picchu
Galápagos Islands
Patagonia
Madidi National Park
Salaar de Uyuni
Lake Titicaca
Tayrona National Park

1.  Machu Picchu
What more can be said about this mystical Incan haven that hasn't been said before?  As one of the most famous archaeological sites in the world, Machu Picchu has inspired generations of indigenous peoples, explorers, and travelers. And for good reason.
History

:
Founded in the early to mid-15th century, Machu Picchu is believed to have been built as a retreat for the Incan Emperor Pachacuti.  However, due to Spanish imperialism, the site was abandoned by 1572 and more or less kept secret for centuries.
As the years crept by, the jungle reclaimed the land and it wasn't until a plundering German businessman "rediscovered" the site in 1867.  Over the next few decades, there were several visitors to the site but it wasn't until 1911, when an American historian named Hiram Bingham III was looking for the ancient Incan capital and was led to Machu Picchu by a local villager named Melchor Arteaga.
A year later, under sponsorship by Yale University and National Geographic, Bingham returned to clear the jungle and excavate the ruins.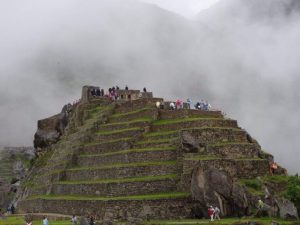 How to Get There:
Taxi
Train
Biking
Busing
Trekking
Tour group
Some combination of all of them
Part of the appeal of Machu Picchu is the amazing journey just to get there.  The Incan capital of Cusco is the usual jumping off point to access the Sacred Valley and Machu Picchu.
Pro-tip:  Take the tourist train back to Cusco – it's a lot of fun.
There is an ethereal aura about Machu Picchu that can be experienced in few other places, if any at all.  There's a reason it was voted as one of the New Seven Wonders of the World in 2007.
3 reasons to visit Machu Picchu:
It's better than the photos you've seen
Mind boggling architecture and design
The journey to Machu Picchu is unforgettable
2.  Galápagos Islands
The Galápagos Islands are a paradox.  They are like any other exotic island chain, yet they are completely unique.
As a volcanic archipelago, the Galápagos Islands have a mesmerizing harshness about them.  The famous and infamous islands are most well known for their endemic species (those found in a single geographic region) and Charles Darwin's study of them, for which his theory of evolution by means of natural selection came about.
But there's so much more to this wondrous and mysterious place and more than one way to experience it all.
Start with doing your best to avoid tripping over parading iguanas or sea lions that drape themselves over the developed waterfront.  They're all over the place and they have the lay of the land, the right of way, and are basically untouchable royalty.  Seriously.  Photograph away but don't mess with them.
What's There To Do:
Boat rides
See exotic animals
Snorkeling & diving
Hike through lava fields
How to Get There:
Fly from Guyaquil or Quito (no direct international flights exist)
Once landed, visitors pay a steep national park entrance fee but we're told that it goes to supporting the preservation of the delicate land.  Let's hope that's true.
How do you get around?:
Private charter
Day-trips and water taxis
The first option, Private Charter, is almost always more expensive but arguably a better way to go since they can take you to more remote locations, your meals and accommodation are covered, and it's fun to spend some time at sea (4-8 days usually).  There are a lot of options to choose from and your variables include type of boat, length of time, and your price ceiling.
As a word of caution, it is recommended that you do your due diligence on a reputable company.  There are a few horror stories floating around of people losing sizeable amounts of money on boats that aren't seaworthy and ultimately just make it far enough to be be legally allowed to turn the boat around and keep your money.  Rare but not out of the realm of possibility.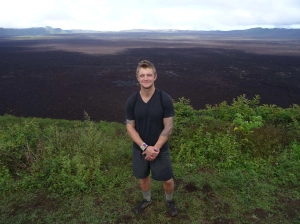 The other option is to visit a few different islands and take day-trips.
These day-trips can include hiking through lava fields, visiting the giant tortoise refuge, diving, snorkeling through lava tunnels, and tracing the footsteps with a tour of the enthralling history of this mysterious archipelago.
To get to the other islands, visitors can either take speed boats or fly.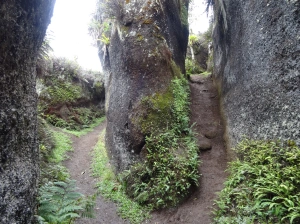 History
For decades, the islands served as a refueling station for whalers and fur-seal hunters.  These groups used the islands for fresh water and food, decimating the giant tortoise populations in the process.  These fresh sources of protein could live aboard for months without food and water and unfortunately, were pushed to the brink of extinction.
Later, ill-fated inhabitants from Europe were lured by the promise of freedom and seclusion.  Unfortunately, a series of unsolved disappearances, a lack of drinking water, and a general harshness of environment put an end to that wave of immigration.
The 2013 documentary, The Galapagos Affair:  Satan Came to Eden, chronicles some of these disappearances and strange events among the European expatriates of the islands.
With the islands officially becoming a national park in 1959, the evolution of this island chain continued to what it is today.  In order to protect a sensitive ecosystem, the Galápagos Islands have far stricter rules and regulations than the rest of South America.  But don't let the remote location and higher price tag dismay you.  The Galápagos are truly an experience of a lifetime.
3 Reasons to Visit the Galápagos Islands:
Unique creatures everywhere
Enthralling landscapes
Unlike any islands on earth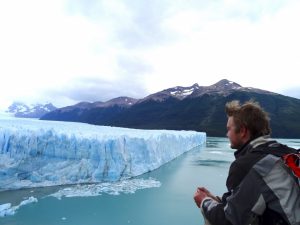 3. Patagonia
In Patagonia, the wind whips hard and fast and the granite mountains soar vertically to snow-capped heights.  It's a massive region of harsh terrain that includes lengthy areas of southern Chile and Argentina, fascinating indigenous history, and natural beauty so intoxicating that you'll wonder why it took you so long to get here.
The Chilean-Argentinian expanse should ideally be enjoyed on both sides as both countries have much to offer.  But don't get stressed about trying to see it all.  No matter what you get to, you're not going to be disappointed.
How to Get There:
Drive if you can…it's a long but worthwhile experience
Fly:  Ushuaia, Puerto Natales, Bariloche, Puerto Montt
Ferry:  See below.  Chile offers a multi-day cruise-like ferry
In Argentina:
El Chaltén:  Enjoy world class hiking while looking at rock climbers hanging off the side of the famous Mt. Fitz Roy spires
Perito Moreno Glacier:  From a boat or on land, you can watch a 170 m (560 ft) thick glacier calve and break into its turquoise melt water.  It's not all doom though, the Perito Moreno Glacier is one of the few stable glaciers in the world.
Ushuaia:  The Most Southern City in the World and it despite how remote it is, it is a tourist hub and for good reason.  National Parks, outdoor activities, and tourist boats to Antarctica make this little town a bustling hive in the warmer months.  For Pan-American highway travelers, you'll need to venture into the Tierra del Fuego National Park to get to the southern terminus of your journey.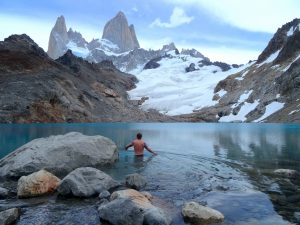 In Chile:
Torres del Paine National Park:  Shimmering glaciers, granite mountain spires, spectacular lakes, and surging rivers.  Bring your underwhelmed senses for an overload.
Carretera Austral (Route 7):  Built during the Pinochet dictatorship, the road was a strategic decision to connect remote communities to supply lines.  Today the 1200km provides unparalleled scenic driving for those willing to make the effort.  The more famous Ruta 40 of Argentina is more heavily trafficked and beautiful in its own right, but not as highly regarded as Chile's Route 7.
Ferry through Patagonian fjords:  The 3-4 day ride between Puerto Montt and Puerto Natales offers coastal views and a plethora of marine life to keep your excitement alight.  Opt for this journey rather than a quicker and cheaper flight; the experience is what you're going for.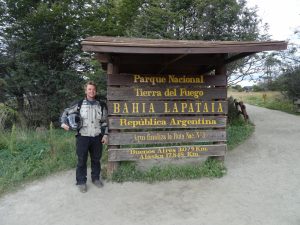 I'm cheating on this one and naming multiple places within the region of Patagonia.  My thought is that it's one of the least accessible destinations and regardless of what you choose to see or do, it takes time to travel through the expansive topography.  That means you'll likely go near other sites and experiences along the way.  May as well while you're there!
Natural wonders are the main attraction Patagonia but tourism infrastructure is strong in many of the touristy towns.  You can find travel agencies, decent hotels, quality restaurants and good local breweries in some surprisingly remote areas.  There should be enough for just about every traveler who's willing to go a little further.
3 Reasons to Visit Patagonia:
Get up close to glaciers.
Hike world class trails.
Breathtaking mountains and deserts.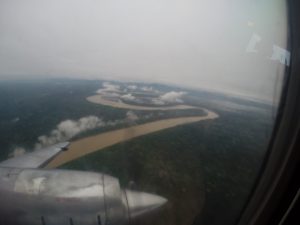 3. Madidi National Park (Bolivia's Amazon Basin)
Are you interested in seeing pink dolphins, jaguars, caimans, tapirs, capybaras, and exotic parrots?  How about fishing for piranhas?  Rafting through rapids?  How about a jungle survival course?
Along the upper Amazon rain basin, in the northeastern part of Bolivia, there lies a gateway to wilds that you have only seen on a David Attenborough documentary special; Madidi National Park.
At over 7,319.7 square miles (18,958 sq km), this national park was formed in 1995 as one of the largest protected areas on the world.  It encompasses 6,000m peaks from the Andes down to the saturated jungle floor at just over 200m above sea level.  It's an incredibly diverse region and travelers are rewarded for the extra effort it takes to get here.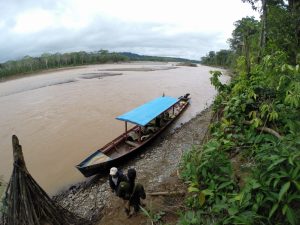 Getting There: 
Most travelers take a short flight over the Andes from La Paz to the jungle town of Rurrenabaque or "Rurre."  You will feel like you're a movie upon landing.  The airport of Rurre is barely a runway with a couple of buildings and you'll need to catch a bus or taxi to actually get into Rurre.
What's There To Do?:
Nature walks
River cruises
Survival courses
Piranha fishing
Learn indigenous practices and plant gathering for medicine, jewelry, and food
This is definitely a locale where you want to take guided tours…it is the Amazon jungle after all and I'm guessing you'd like to survive to your next birthday.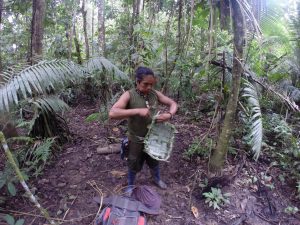 There are many tour agencies and even more options to choose from but please do your research as there are dodgy companies out there who do not respect the wildlife.  Most offer multi-night packages that include stays at their eco-lodge, guided tours and activities, food, and transport to the airport.
Personally, my favorite was a 3-night survival course that kicked my ass.  We didn't catch food for two days, I got stung in the face by bees, bitten by fire ants, stalked by a jaguar, almost caught a caiman, and got destroyed by mosquitoes.  But I would do it again.  In fact, I'll likely do the week-long survival course on my next visit.
For those less adventurous, fear not.  There are plenty of relaxing, pampered options that require very little of you other than getting there.
Madidi National Park is a special place.  A home to incredible bio-diversity, unique species and ancient cultures; all of which must be respected and protected.
If you're looking to experience a nature documentary, this is your place.
Top 3 Reasons to Visit Madidi National Park:
Take an Amazon survival course
See what a jungle town is like
One of the most bio-diverse places on earth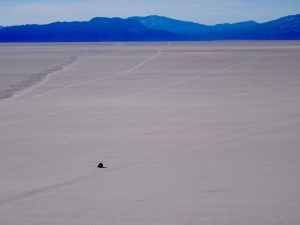 5. Salar de Uyuni
The worlds largest and highest salt flat is as inhospitable as it is beautiful.  Thankfully you don't need to survive out here, especially while on a pampered 4×4 tour.
Where is It?:
The salt flats of Bolivia cover an area of approximately 10,000 square kilometers (3,900 sq. mi.) and it's located in the southwest part of Bolivia, within the Altiplano (high plane) of South America. The salt flats are so big that you can see them from space.
What's There To Do:
See flamingos
Stay in a salt hotel
Spy packs of llamas
Visit a train graveyard
Climb extinct volcanoes
See real life mummies up close
Capture perspective altering photos in one of the driest places on earth
Blast across miles of salt flat in a 4×4 for one of the surrealist drives of your life

How Do I Get There?:
Flying is the easiest, fastest and most comfortable.
However, to get an up-close experience of Bolivia, the 12-15 hour bus ride from La Paz is fine but tiring option.  There is also a train you can take.
If you're coming from Chile or Peru, the transport options are similar; it's just up to you to connect the dots and decide what you want to experience…the journey to get to the destination is half the fun of traveling in this part of the world.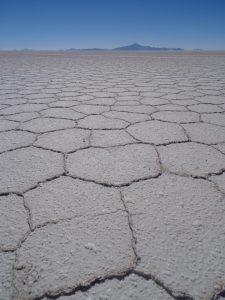 How Was It Formed?:
In short, massive prehistoric lakes dried up leaving salt thick salt deposits.
In slightly more details, 40,000 years ago, prehistoric Lake Minchin became Paleo Lake Tauca which then became Lake Coipasa.   Coipasa then became the modern lakes of Uru Uru and Poopó and the salt flats of Salar de Coipasa and Salar de Uyuni.
The surrounding volcanoes deposited a number of minerals into the feeding rivers and this in turn left large deposits of salt.  In the wet season, Lake Titicaca overflows into Lake Poopó and this in turn floods Salaar de Uyuni and gives it the famous glass reflection.
When to Visit:
There's no bad time to visit, but keep in mind that the wet season is November to March and so you should expect the reflective surface to be in full effect.  It also means that travel over the flats is more difficult and the famous island of Incahuasi will likely be inaccessible.
3 Reasons to Visit Salar de Uyuni:
Flamingos & Mummies in one place
One of the most surreal natural places on earth
Stay in a hotel made of salt

6. Lake Titicaca
Not only is Lake Titicaca the birthplace of the Inca Empire but it is the largest lake in South America and also the highest navigable lake in the world at 3,800m (12,500ft) above sea level.
Where is it?:
Straddled by Peru to the west and Bolivia to the east, you can access the lake from both countries.  The traditional access points for those on the gringo trail are Puno (Peru) or Copacabana (Bolivia).  Both are easily accessible by bus, car, bike, plane.
What's there to do?
Uros Islands – traditional floating reed island (via Puno only)
Ancient ruins – the various islands are home to Pre-Columbian burial towers and temples, including the famous Fertility Temple
Traditional weaving – head to Isla Taquile to see traditional weaving methods
Boat tour – both the reed boats and the regular tour boats should be experienced
Wildlife – especially the birds which include flamingos and ibis'
Festival of Virgen de la Candelaria:  Massive folk festival held every February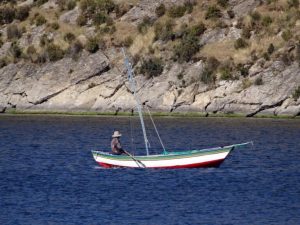 How to Get There: 
The cheapest and most popular way is by bus.  To get to Puno, buses are generally taken from Lima, Cusco, and Arequipa.  For Copacabana, La Paz is the closest and most obvious connection.
As always, flying is a more expensive option but it is an option.  Copacabana has an an airport but Puno does not and thus travelers will need to fly into Juliaca and then take a bus or taxi onward.
Best time to Visit:
It's generally recommended that April to December (dry season) is best as you'll get sunny days and cold nights.  Keep in mind that peak season is June, July, and August; the weather is the best but the volume is tourists is high.  Shoulder season travelers should aim for April-May and September-November; it's the best combination of weather and low-volume of tourists.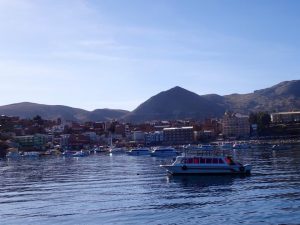 History:
In pre-Columbian times, the lake was host to a variety of indigenous groups such as, the Colla, Lupaca, Pukara, Tiahuanaco, and Inca.  Peace existed at times but conflict and the growing threat of Inca expansion forced some communities to take to the islands; or build their own floating reed islands in the case of the Uros Islands.
According to Inca mythology, Lake Titicaca is the sacred birthplace of the Inca.  Their god of creation, Viracocha, emerged from the depths to create the sun, moon, stars, and humans.  Then the founders of the Inca Dynasty, Manco Capac and Mama Ocllo, were created and sent down to Earth by the Sun.
Lake Titicaca is still considered a sacred place and rightfully so when you consider the history and life-giving sustenance that it provides.
Top 3 Reasons to Visit Lake Titicaca:
Where else will you see floating reed islands?
Deep cultural dive of the region
Birthplace of the Inca + ancient ruins

7. Tayrona National Park
If heaven were a tropical beach, it might be here.
Along the shimmering Caribbean coast of northeastern Colombia, where the Sierra Nevada de Santa Marta mountains meet the ocean, there lies a paradisiacal jewel…Tayrona National Park.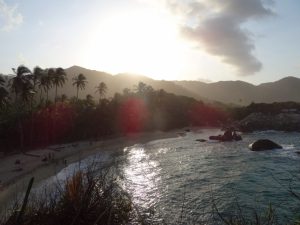 What's there to do?:
Swim in the turquoise sea
Snorkel through corral reefs
Relax in a hammock on the beach
Hike among the jungled ruins of ancient human settlements
Enjoy exotic plants and animals including howler monkeys, macaws, bats, and eagles
How to get there:
The city of Santa Marta is the closest metropolitan area at 34km (21mi) away and thus the usual jumping off point for travelers.  An hour long bus or taxi ride will dump you at the entrance where a fee of 60,000 Colombian pesos ($15) will gain you entry.
From there you can either take a van or hike in (we recommend the latter if you're able).  The hike in will take at least an hour – definitely bring water.
The other option is a boat from the seaside town of Taganga.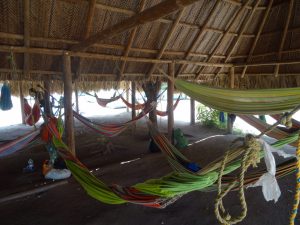 History
Land was first set aside in 1964 and officially made a national park in 1969.  This area has a long history of indigenous habitation and culture with the earliest signs of the Tayrona tribe from about the 6th-7th centuries.
Evidence of the Tayrona tribe present in both physical ruins and with the ongoing cultural practices of their direct descendants, the Koguis, and three other indigenous tribes that are thankfully actively preserving their heritage and history.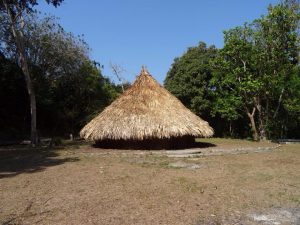 The best weather is typically January to March as it is slightly cooler and drier…the Caribbean can be an outdoor sauna, especially for northerners that aren't used to it.
With that said, the busiest time to visit is from December through January and June through July.
It is generally recommended that February and March are your best options for milder weather and smaller crowds.
August through November is considered the wet season, so if your skin is pasty and not ready for the sun, this might be a good option for you.
Regardless of when you go, it will likely be humid; it's the Caribbean coast after all.
Lastly, arrive as early as possible in the day to secure a spot – this place is popular and for good reason.
Top 3 Reasons to Visit Tayrona National Park:
Ancient indigenous  ruins in the jungle
Wild exotic animals
Tropical beach paradise

Conclusion:
As you can see, South America is a diverse continent that offers a plethora of cultural and topographical options – and we haven't even gotten to the eastern side of the continent!
For those travelers going for a few short weeks, you've got a much tougher choice to make.  My advice, pick one place.  Less is more and overloading your tight schedule will make your experience more stressful than it needs to be.
For those travelers hitting the gringo trail and spending a few months on the road, you've got a bit more time to explore the many options.  But keep in mind, the continent is massive, it takes time to travel between points, and you're still not going to see everything.
When I "planned" my 8 months in South America, I made a very short list of a few places that I desperately wanted to visit.  Otherwise, the rest of it was made up as I went along and got recommendations from other travelers and locals.
You're not going to make a bad choice.  Just book that ticket already.
¡Buen viaje!