With the bike gang at a trio, we made a surprisingly lax and slightly convoluted crossing at the border.  My dodgy paperwork failed to arise any suspicion, thankfully, and we were away again before the passport ink even dried.  Elation and relief swept over us and despite getting pulled aside at a police check point a few miles down the newly tarred road, our ride following the dreaded border crossing was a joy filled jelly doughnut of lush valleys, smooth roads, and daunting volcanoes.
With daylight fading, lethargy beginning to creep in, and a desire for seeing the incredible landscape, we stopped in the town of Ibarra in search of a hotel. Either it was low season or the hotel was looking to be the set of a predictable Hollywood horror trilogy but we were the only guests in a sprawling building overlooking a lake with ethereal mountains in the backdrop.  Understanding the need to protect our motorcycles from theft, the hotel graciously offered to store them in one of the dining halls, creating a humorous juxtaposition of dirty motorcycles in a marble floored sun room.

Following our night in Ibarra, we began our journey to Quito but not before making a three hour detour to go to some nearby hot springs.
The idea of hot springs conjures up steaming ponds of water to be enjoyed in its natural setting and that's what we envisioned as we winded our way along remote mountain roads. Our eagerness for tranquility grew as we edged closer and the signs for the hot springs became more frequent. However, as we pulled into the parking lot, we were greeted with what I can only describe as a psychedelic regurgitation of too many ideas and no focus. We had a dragon slide, an array of crudely shaped concrete mannequins, and an over zealous display of paint with no discernible theme. While I respect freedom of expression and art of most kinds, to say this creation was odd, would be an understatement.  Like the hotel, we were the only ones there and it too felt like we were on the set of a horror movie.  Although this horror movie would probably be the 4th installment that no one wanted.  Thankfully we survived the horror show and managed to have a bit of fun in our ridiculous surroundings.
Quito
Rush hour in Quito is an experience I could go without.  Heavy traffic, steep roads, and an insufficient engine fan nearly caused my engine to overheat.  I managed to save it with frequent stops to turn off the bike and let it cool, but it was a tense and frustrating hour that forced us sit and wait roadside in the congested fumes over and over.
Finally, we found our hostel in the historic district, The Secret Garden.  Absolutely exhausted, our crew enjoyed a big bottle of beer and a cigarette on the side of the street before we attempted to haul all of our gear up to the fifth floor of our accommodations.
Knowing little about the city of Quito, we had little in the way of expectations.  With a good night of sleep behind us, we went out the next day to take care of a few important matters before we could be tourists.
First step, get our motorcycles serviced.  A fellow adventure rider had recommended Freedom Bike Rental for repairs, service, and general information.  The owners, Court Rand and Sylvain Gallea, were proper legends and immediately welcomed us into their shop.  They took us across the street to their shop mechanic and he got to work on our bikes while Court and Sylvain showed us some routes to consider for our upcoming weeks in Ecuador.
Leaving our bikes overnight to be worked on, we headed to our other task that needed accomplishing, a Yellow Fever vaccine – A sickness that I've heard is absolutely worth avoiding.  We were pleasantly surprised by the hospital's refusal to take payment and the entire process lasted no longer than thirty minutes.
With the most important tasks completed, we went out the next day to be proper tourists.  The first stop being the famous Basilica of the National Vow – The largest Neogothic church in the Americas.  Surprisingly fun for a church, the tour took us up to the catwalk within the frame of the roof and up a spire for a view of the expansive city.
Meandering just 10 minutes down the road, we stumbled into La Plaza Grande.  Built in the 16th Century, the square is a confluence for religion, government, history and independence.  For us, the gorgeous buildings, well manicured gardens and exceptional people watching we all we needed after a much needed day off the motorcycles.
Climbing Volcanoes and Making Gasoline Fires in the Road
The next day, with freshly serviced motorcycles, the three of us headed a few hours south via the highway and then another hour east along a cobbled and graveled road to the sister hostel of our Quito accommodation, called The Secret Garden Cotopaxi.  This sustainably maintained hostel is set in near perfection with lush, rolling hills, farmland, and views of several volcanoes including the famed Cotopaxi — one of the highest magmatic earth bulges on the planet.
Wonderfully surprised with tea and banana bread upon our arrival, Martin and I opted to save a few bucks and camp on elevated platforms on the property while Nir went for a bunk in a shared dormitory.
During the check-in, hostel managers casually listed off the various potential activities one could book through them; horse riding, hiking, camping, and climbing Cotopaxi, among other peaks.  Whether it was the ignorance or the arrogance or a combination of the two, Martin and I took little time to deliberate about our interest to sign up.  Nir, who had slightly more mountaineering experience in the Himalayas, needed a little more convincing.  But we all signed up to climb the daunting volcano and so our fate was chosen.  Our relaxing time in the serenity of the Ecuadorian countryside just got a little more serious.
Given the extreme altitude of Cotopaxi and our utter and complete lack of preparation, we needed to "warm up," as the Ecuadorian mountain guide said with a smirk.  So, the next day we ascended the extinct volcano of Illiniza (5,200m or 17,000 ft). At times it was a cloudy climb over a Mars-like landscape – the socked in conditions making it feel like we were caught in an eerie dream.  However, dropping below the foggy encasement, it felt like we were in the highlands of Scotland with fresh streams and shrubs of greenery all around.  Beaming with confidence upon our return, we felt that Cotopaxi should be a relative breeze given that it was "only" about 700m higher than Illiniza.  God how wrong we were.
As suggested by our guide, we had to rest the next day before our assault on Cotopaxi.  With our gear safely stored and off-road riding potential at a maximum, we went off for an unforgettable ride through the surrounding valleys.  Snaking rivers, bumpy scenic roads, and a rainbow graced us for hours.  It was almost so perfect that it became difficult to separate it from a mystical dreamlike reality vs. a vivid dreamscape that I was inevitably going to wake up from.  But a minor crash with the ground a few hundred meters from the hostel grounded me in an instant.
Gliding along the gravel road in eyeshot of the hostel, I realized a little too late that Martin and Nir were stopped and in my ignorance of off-road motorcycle riding, I hit the front brake far too hard and the bike went down quickly.  In an instant my petcock valve busted off and fuel came gushing out all over the road. We quickly tipped it over on the other side to stop the flow and Martin managed to pin the lever back on temporarily with a stick until we got back to the hostel. Fuel was everywhere.  On our clothes, the motorcycle, and the road.  Now we could've just ridden straight back, slightly deflated after a magical day, but where was daredevilish novelty in that?  We had gasoline on the ground and potential Evil Knievel stunts to perform. So naturally we lit the gas on fire and proceeded to have a photo shoot with an impressive sunset, flames, and motorcycles.
Cotopaxi (5,897 m or 19,347 ft) is considered the third highest active volcano in the world and the second highest peak in Ecuador.
At 3 PM we were outfitted for our climb with helmets, ice axes, crampons, harnesses, and ropes. A short drive to the park entrance and to the lodge was followed by a large meal and a briefing about the climb. We went to bed around 6:30 PM with the intention of a nap but unfortunately no sleep followed. At 10 PM we arose for breakfast, gear check, and we piled into the trucks to go to the base of the volcano. The climb started decently enough in the middle of the night, although visibility was essentially nonexistent. Icy wind gusts became our unfortunate companion from the first steps but the actual ice did not start to coat us until about halfway up the mountain. Hour after hour went by where all we could see was what our headlamps could illuminate. In the distance the city lights of Quito could be viewed when the clouds would pass but otherwise we existed in a dark alien ice world. After about the 5th hour we all started to struggle a bit. The oxygen got thinner and the weather got colder. It was about at this point that I realized my clothing was quite inadequate for the painful frigidity that the mountain provided.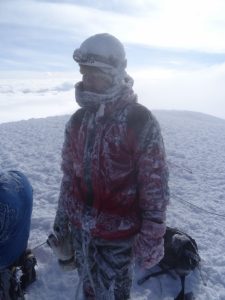 The rest stops became more frequent and I'm convinced that just about everyone, including the other rope teams, questioned what they were doing on that mountain that night. But we all pressed on. As the sun rose we could see that we were close but the false summits kept betraying our trust that we were there.  Finally, after more than 8 hours of ascending, our ice encrusted bodies reached the summit.  It was a joyful moment filled with hugs and awe-inspiring views.  But we were so fucked that it was difficult to find enough energy to even celebrate.  Our time up there was brief, especially with the weather closing in but we took it in as best as possible, despite altitude sickness and exhaustion taking a hold.
Then it came time to descend.  If we weren't so frozen and our heads not pounding due to the altitude and likely dehydration, perhaps it would have been more tolerable but the descent was arguably more of a mind game because we were seeing what we came through the night before for the first time.  A never-ending ice kingdom revealed itself in the daylight.  Unreal formations and unforeseen natural treachery showed themselves, where just a few hours before, they lay hidden in the darkness.
More than 3 hours later and everyone dangerously separated from everyone else, we arrived at the bottom.  Sleep deprived, altitude sick, and hungry, we impatiently waited for all the stragglers to regroup before heading back to our hostel to recuperate as best as we could.
I have done many tough physical and mental challenges in my life but this without a doubt ranks up there as one of the hardest. Undoubtedly, more time acclimating and training would have helped but regardless, it was a challenge that I am happy to have accomplished.  I was humbled but equally took much confidence in my own ability to confront challenges and overcome them.  As it turned out, this climb was just the beginning of an insanely dangerous week in Ecuador.
Baños: Swinging at the Edge of the World and White Water Rafting
Nestled amongst mountains and a volcano is the town of Baños. Touristy but packed with activity options, it is certainly a must visit for those spending any decent amount of time in Ecuador. My only real goals for the town were to do the "Swing at the Edge of the World" and to white water raft for the first time.
The swing is located at the top of a small mountain and is attached to Casa del Arbol (The Treehouse)–an observation station for Mt. Tungurahua; an active volcano that was spewing out ash clouds with monstrous bangs of thunder at the time of my visit. The three amigos and our new Canadian friend Marcel headed up on our bikes to take an unforgettable swing. Probably nowhere else will you see a line of adults waiting to use a swing but once you take a ride you will know why. It was an extreme and smile-inducing experience that relaunched me back to my childhood.
The next day the four of us (East German Martin, Israeli Nir, Marcel the Canadian aka "Frenchy" and myself–Guy the South African-American) headed out for a white water rafting adventure on Class IV rapids. I had my GoPro mounted on my helmet and I was ready for capturing all of the ensuing action. We cut through a few minor sets of rapids and then as the camera rolled, we came up to the biggest yet. Our boat dipped into a swirl between some car sized boulders and then we seemed to just stay there.  The guide screamed for the whole boat to paddle harder.  Sitting toward the back of the boat, I could see my three travel mates churning away like I was.  However, the other shipmates on the raft, three portly Canadian nurses, sat frozen.  What they were doing or thinking, I have no idea.  But I knew we were fucked, despite my limited rafting experience.  We're going to flip. 
Sure enough, I had barely finished the thought and the bow went up and up and we were all either thrown or caught underneath the raft.  I managed to get myself from under the raft and pulled myself out of the water to help the guide get the boat turned back over, the whole time moving swiftly down the turbulent river. One by one we pulled people in until we had everyone on board, our Canadian nurse friends looking distraught and shocked about what just unfolded.  Knowing that we were all safe, an excited internal light bulb went off; my GoPro had been running through the entire ordeal!  I went to turn off my camera and to my dismay it was gone!  The boat must have had knocked it clean off my helmet when we flipped and for a second GoPro was taken on this trip. Seemingly like they were on the verge of death after nearly drowning, we dropped off two of the three nurses on the river bank after they refused to continue.  We on the otherhand pressed on as I tried not to think about my mounting camera and film losses.
Lake Quilotoa
Following rafting, we decided to leave Baños to go camp and see a few nearby lakes. Having grown fond of Frenchy, we put his bag on my bike and he climbed on the back of Nir's bike with the idea that he would finish out the final week of his yearlong, around the world trip with us.
Through contacts we had made at the electronic music festival/party near Pasto, Colombia, we were invited to another party at an abandoned house next a lake, a few hours from Baños.  We set up camp in the shell of a house just up from the dance party we would be attending.
While I'm sure there were a few attendees who were confused as to why we were there, everyone was most welcoming to the four gringos who had seemingly stumbled into this remote little corner of the world.
Groggily coming to the next day, we packed up our tents and began the journey to Quilotoa Lake– a massive crater holding blue topaz water. It was mesmerizing. The night was coming as quickly as the icy wind and so we walked around town to find ourselves a hotel. We quickly found out that the generators in town were out and nobody had electricity or hot water.
Bundled in most of our clothes, we ate dinner by candlelight in our hotel and took bucket showers from huge pots of water heated on a stove. Although hardly ideal, we enjoyed the experience, especially in hindsight.
Almost Trapped Between Mudslides
Loaded up again on the bikes, the 4 of us headed out on a beautiful sunny day to find a much touted scenic route. Exceptionally sandy and rocky roads under construction did not help as we dodged massive earth movers but once we cleared them, we sank in comfortably to the winding mountain path.
Then the clouds/fog moved in.
Like a blanket of warning, the misty air consumed the mountain with low visibility and plenty of moisture. But we pushed on as the roads continued to depreciate. Then the first obstacle–a mudslide covering the whole road. It seemed passable and a fun challenge, so we decided to press on.  That meant unloading all of the gear, carrying it over the obstacles, and then one by one each bike was pushed, pulled, and lifted through the caking mud. It took almost an hour but we were elated to make it through. Then came another mudslide. Not as big but still something we had to deal with.
Then another. Then another. We should have heeded the warning of the first mudslide because then there was a monster.
This mudslide originated over 150 meters up and swept away everything including the road and the switchback of the road over 100 meters below. We were dismayed to say the least but then the rain started coming. We had a decision to make. Either turn around and go back through what we just came or somehow navigate each motorcycle down the chaos of this incredibly large mudslide, all the while fearing that the roads beyond this were even more impassable.
Nir and I descended through knee deep mud and walked a kilometer down the road to scope out a clear path. Besides questionable road construction and a few minor mudslides, it looked okay. But we had an agonizing decision to make. If we took the bikes down, there was no way to go back up.  It was the point of no return.
Weighing our options we decided to go down. Potentially a terrible error, we decided the path back was much more difficult than what we came down through and we knew we couldn't stay where we were as we could literally see the land falling away around us. We needed to get moving, now.
Again, we unloaded the bikes and one by one we trudged through the thick mud as we pulled and pushed each bike to the edge. Fixing a rope to the back, two of us would pull back as a brake while one steered and the other would brace the bike from falling. One by one we got each bike down to the screams of our elation. We were happier than when we summited Cotopaxi. Over two hours were spent descending a few hundred meters but we had accomplished something. Unfortunately for us, we did not have much time to enjoy it. Light was fading, the rain was continuing and our water had run out. As dusk became night, the mind games
became testier. Poor visibility, loose rock, and swaths of washed away road were hell to deal with on my overloaded, low-riding bike. I toppled over countless times and all of the panniers and bags had to be reattached. Dehydration made clear thinking a chore and it only added to my woes of keeping the heavy motorcycle upright.  In desperate need of water, we stopped in the darkness at the only house we came across. A confused yet cautious old man came out and graciously gave us several cups of water from a jug.  It may have been the sweetest and most delicious water of my life.  I could feel every crusty cell in my body resaturating and coming back to life.  My concentration, mood, and energy all returned enough to show me how utterly depleted I had been.
The kindly, old mountain man informed us that there were more mudslides to come and while passable, we should wait until daylight. Descending further down the mountain, we found another washed out section of road that a river took out. We decided we needed to set up camp in a safer spot and tackle the next crossings the next day, as the old man had suggested.
Hunger had officially crept in after an exhausting day.  Unfortunately, the only food we had was some rice, spaghetti, a little sauce, peanut butter and honey. Probably enough for one person but we stretched it out between the four of us. Happy to be in clean, mostly dry clothes, we slunk into our tents and slept like logs. Morning came quickly and we were awoken by the old man and some local boys he had brought with him. The man said he wanted to accompany us through the coming obstacles, for which we happily accepted.
After a small breakfast with the remaining food, we set off to conquer more mudslides. The washed out river crossing was slightly challenging but nothing like what we had come through. A new day, greater knowledge, and a local guide put us in higher spirits as we continued on. Then came our greatest obstacle–no road at all. It was washed away down to the river, hundreds of meters below. The only option was to go up and around on the steep grass embankment…somehow. But we had to. We had no choice, other than leaving the motorcycles, which wasn't really an option.  So the unpacking and carrying process started again.
Bag by bag we carried our gear up and around, careful not to get too close to the edge in case the land gave way. Then the task of getting the bikes up the slippery embankment began. With one to two pulling on the rope, one on the throttle and pushing and the other on the clutch and pushing, we battled up the hill. The bikes fell more times than I can count. Frustrated screams of "FUCK!" filled the air each time as somebody was nearly pinned. But we pressed on. One by one we got those bikes over. We felt there was little else we could not do at this point. The old man continued with us through a few more minor mudslides until we got to the last major one.
This mudslide covered the road and the switchback 150 meters below. The only path was a foot wide and it teetered on the edge with a slip leading to a long fall below. Again, I unpacked and one by one the bikes were carefully passed through. We bid farewell to the man that helped carry our things through multiple mudslides and paid him a few dollars for his help. The four of us crept through several more mudslides but finally we were onto flatter and more solid roads with smatterings of civilization in the form of farm houses and sheep giving us hope.
Around 2 PM, we made it to the small town of Pucayacu.  Locals of all ages stared at us in astonishment rather than the usual curiosity.  They could see by the amount of mud and from the direction that we had come that we had been through the impossible.  "Those roads are closed!" said our server at the first restaurant we could find.  "How did you make it through?!"  "I'm not sure to be honest," I responded in my own disbelief before ordering a plate of chicken and rice, Coke, coffee and ice cream. It was an unforgettable meal that couldn't be eaten fast enough.
Despite our exhaustion, we had a final push to the town of La Mana, which was big enough to have an assortment of hotels for us to crash.  We showed up to the nicest hotel in town looking almost homeless with our mud caked clothes. The poor laundry lady had to deal with four bags of the dirtiest clothes she probably ever seen but she also probably made a weeks worth of wages in a night. With a roof over our heads, our stomachs full, and dry, clean clothes, we could finally relax after an ordeal that honestly got out of hand.
Montañita
A night ride through sketchy roads on the way to the coast forced us to stop in Porto Viejo. But the next day we were bound for an ocean ride.
Sun bouncing off of the dark blue ocean followed us all day through fishing villages to the touristy surfer town of Montañita–our destination for Easter Weekend. I'm not sure what Montañita is like normally but for Easter weekend it was chaotic. Tourists, mainly from other South American countries flooded the town and the consistent beat of dance music started at around 3 PM and went until about 5 AM everyday. Street vendors for food, jewelry, and cheap souvenirs
were everywhere and navigating through the zoo of people was equally interesting as it was overwhelming. But we enjoyed it and after our tough week climbing volcanoes and dealing with endless mudslides, it was good to be back in something that resembled civilization and celebrate zombie Jesus day with nightclubs and rum.
Frenchy Has a Flight to Catch
In a mad race against time, the four of us rode to the city of Cuenca to put Marcel (Frenchy) on a bus to get him to the Peruvian border to catch another bus to get him all the way to city of Lima for his flight back home to Canada which was in less than 36 hours. We bid farewell to our friend and then made bets as to whether he would make it or not.
He essentially had a 24 hour commute and his flight was leaving in 26 hours.  There was no time for errors but knowing South America, there was a high probability that something would arise.  And yet, the next day, we got a message that Frenchy had made it and with 45 minutes to spare!  What a legend.
Cuenca was a beautiful colonial city but unfortunately we were not able to see much of it as we were trying to figure out our travel arrangements for the Galápagos Islands. The next day Martin and I said our goodbyes to Nir before we headed back to the coast to Guayaquil for our flight. The trio lasted exactly one month and none of us had any idea of the adventures and laughter we were to have. Lifelong friends were forged through unforgettable experiences and I am truly grateful for every moment of one of the most dangerous, exhilarating, and fun periods of my life.
Ready for the next installment?  Click the link for Chapter 8:  The Mysterious Galápagos Islands
Start this journey from the beginning:  Introduction