After a decent sleep, I packed up camp and shot off for my main objective for the day; getting through the Chilean border.
I was a couple of hours into my journey when I came to a dirt road that seemed to be a shortcut according to the map.  Just before taking the alternate route, I did another incessant bike checks and lo and behold, it revealed that I was spilling fluids.  I couldn't tell what was coming from where but my mechanical donkey was in some distress and I needed any opinion that wasn't mine.
Worried about being stranded in the desolate gale that is Patagonia, I continued on the main road and stopped at a gas station to see if I could find some semblance of motorcycle expertise.  As luck would have it, half a dozen Brazilians had just filled up their dual sports and were about to ride off when I waved them down.
Thankfully one of the men spoke English and so I could clearly explain my leaky issue.  While none of them were a mechanic, there were enough years of motorcycle experience between them all to determine that I had likely added too much oil and so it was spilling out when heated up.  Knowing less than they did, it seemed reasonable and so I thanked them for their guidance and wished them luck on their journey.
Welcome Back to Chile
Dreading the border crossing as I tend to do, I was pleasantly surprised to be whisked through fairly painlessly.  In fact, it was the best border crossing to date – no more than 30 minutes.  Relieved, I rode the last 45 minutes through brutal winds and arrived in the busy town of Puerto Natales.
Originally founded as a sheep port in the early 20th century, this pleasant little town was now clearly led by tourism.  One of the main draws being Torres del Paine National Park.
I could blame it on running out of time, running low on money, blinders caused by the in-reach finish line, or that I hadn't originally planned on coming through Puerto Natales.  But honestly, I couldn't tell you why I didn't go to Torres del Paine National Park.  It was at least regrettably shameful if not a heinous tragedy, that one day I must make right.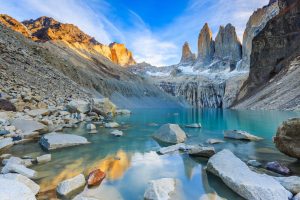 Full Circle With My First Motorcycle
In Puerto Natales, I met up with two American motorcycle travelers that had been given my Whatsapp number by the Polish guy who had bought my beloved KTM 950 Adventure.  That Pole in turn rode from Colombia to Buenos Aires and then sold the bike to Ben, one of the Americans that I was now meeting up with.  These guys were in the beginning stages of their adventure north and wanted to meet up to chat and ask for advice.
Seeing my old bike was odd.  I had only spent 6 weeks on it before the transmission shat the bed.  But I was bonded to it.  Those first 6 weeks were some of the most scary, exciting, memorable, and formative of the whole trip.  Whether it was the right bike for me is irrelevant.  It was my first motorcycle and it was a gorgeous piece of engineering despite its years of use and abuse.
Sitting proudly as it always did, the KTM looked mostly the same but there were a couple of noticeable additions.  Ben had unfortunately had to overhaul several pieces of the engine already.  It could be argued that it was wear and tear but evidently, the Polish intermediary had neglected to do basic maintenance including oil checks.
It was amusing to hear of Ben's endless frustrations in dealing with the Pole who had bought the bike from me.  I'm glad my difficulties with him were not my own projections but rather the guy was just a pain in the ass to deal with.  Nothing was ever straight forward or simple and we shared a cheers for departing from that mutual pain.
The Aussie I had hiked with in El Chalten had sold me some camping gear that I in turn sold to the two American motorcyclists who had mentioned they were short on some items.  I also gave them the two camping stools that originally came with the KTM and that I had carried all the day down here from Colombia.  Full Circle.
Up next, Chapter 28:  Siphoning Gas to get to Tierra del Fuego
Start this journey from the beginning: Introduction