As usual, I set off later than planned and battled winds from start to finish.  My goal was to make it to the Strait of Magellen in time to catch the ferry across to Tierra del Fuego.  But I ran into a problem or two.
I ignorantly assumed there would be fuel stations after leaving Puerto Natales.  The towns on my map seemed big enough to have at least one gas station but perceptions are not always reality.  Each passing town seemed smaller and less developed than the last and my fuel gauge began to feel the strain.
With almost nothing left in the tank, I was forced to stop in a little settlement with the only amenities being a basic cafe.  Inside, the motherly server told me that I had 50km to go before I would get to a fuel station.  A number of locals in the cafe made some calls but the only feedback was to hitchhike.
I was so angry with myself.  I felt stranded.  You always fuel up when you can!  You know this!  How have you been on the road for 8 months and this is happening now?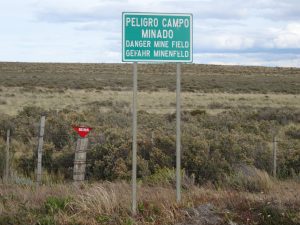 Problem Solve
There's almost always another solution to your problems and I wasn't prepared to give up yet.  So, I cruised further up the hill into the tiny town; adamant that I figure this out without hitchhiking a 100km.  I was beginning to lose hope but lucked shifted dramatically when I found a middle-aged man working on his pick-up.  After asking him where I could possibly get fuel, his strained face didn't show much optimism.  But as he finished speaking, a light bulb seemed to go on and he beckoned me to follow him to his overgrown backyard.
Among rusting nondescript farm equipment sat a large relic of a truck that surely hadn't run in years.  Nature seemed to be hellbent on reclaiming it and so I was confused what we were doing over there.   As that thought entered my head, the Chilean bent down and tapped on the external fuel tank near the wheel well.  A hollow liquid sound emanated and he turned to me with a glint in his eye.  There was hope.
Sticking an old hose pipe into the truck's tank and sucking on the other end, the man's mouth soon filled with gas before he siphoned what he could into a plastic fuel container.  Before dumping the few liters into my tank, I was reassured that it was in fact gasoline and not diesel; a point I kept repeating to make sure nothing got lost in translation.
With enough gas to get me to the next fuel station, my dismay faded away into a happy memory.  I tried to pay the man for his kindness, patience, and most importantly, his fuel.  But he refused, explaining that he was just happy to help a needy traveler.
For the umpteenth time, I was humbled by the altruism of someone that had no responsibility in helping me.  The 6 months back home had allowed cynicism to creep in and patience to creep out but the punctuations of warm-heartedness while on the road, once again rekindled my faith in humanity.  Sometimes vulnerability helps you see more clearly.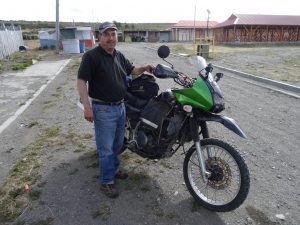 After a delayed start to the day and having to get siphoned gas out of a rusting old truck, my arrival to the ferry crossing was far later than I had planned.  But I made it.
At the ferry terminal restaurant, I pondered my next moves while I ate a sandwich and watched the lambs prancing in the pen outside.  With the sun setting soon, I planned to camp and then wake up early to catch the ferry, as I didn't want to risk trying to find accommodations in the cold darkness of Tierra del Fuego.
However, I rethought that decision after realizing that the only place to sleep was in the pen with bleating sheep and mounds of their shit.  Then I'd have to wake up horrendously early to get in line with dozens of trucks and vehicles to board the ferry.  The more I thought about it, the less I wanted to do it and so I was thankfully allowed to squeeze in line on the last ferry of the night.
The setting sun painted a mesmerizing and changing color scheme as we took an unbelievably wide angle to battle the powerful currents of the Strait of Magellan.  Even with my literal surface level understanding, the danger of the strait was evident and it is no wonder that sailors feared the treachery of this route, even though it is safer than the more exposed Drake Passage.
In the fading twilight, I raced within the convoy of vehicles to get to the town of Cerro Sombrero.  The American guys I met in Puerto Natales warned me of the one hotel in town being awfully expensive and so I braced myself for the financial carnage.
After being told of the outrageous price of accommodation, I asked if there was anywhere I could camp.  It wasn't all that appealing with the howling cold wind, but I was running dangerously low on funds.  The hotel manger could see that I was not swimming in money like some of the other tourists coming through here.  After haggling a bit, the manager showed me to the discounted rooms in the back, where it looked like the truckers stayed.  I happily accepted the offer and was quite content with my simple but affordable arrangement.

The next morning at breakfast I met a group of Europeans and Americans that were part of an organized motorcycle trip heading to Ushuaia.  All decked out in matching gear and on their new BMW's, I felt a renewed sense of gratitude toward my independence.  It certainly had its downsides but at this point, I don't see how I could do an organized motorcycle tour. And perhaps I was projecting, but I got the sense of subtle reverence from a few in the group who themselves seemed a little out of place and better suited to finding their own path.  From the start, I was reliant on myself and the kindness of strangers to get me through this adventure.  The trip was up to me and the chaos of the universe and I wouldn't have it any other way.
Up next, my final border crossing – Chapter 29:  Faking Documents Through International Borders
Start this journey from the beginning: Introduction