After a lovely stay in the world famous setting of El Chaltén, I set off on the pompously picturesque ride to El Calafate.  The turquoise lakes, rocky foothills, and snowcapped Andes traipsed along with me as the sun shone proudly upon it all.  The wind even took a day off.  After multiple days of 8-10 hours in the saddle, the 4 hour ride and perfect conditions made the ride too short for once.
El Calafate sits on southern side of Lake Argentino; about an hour east from the Perito Moreno Glacier.  100 years ago it was simply a place for wool traders to shelter but the small city really came to be after the creation of nearby Perito Moreno National Park in 1937.  With the throngs of tourists jam-packing the sidewalks and restaurants, I had a difficult time accepting that there are only about 20,000 permanent residents.  Traffic bustled past the familiar aimless wander of tourists  perusing high-end art galleries, travel agencies, and repetitive curio shops.  After riding through desolate landscapes for so long, this was a jarring adjustment.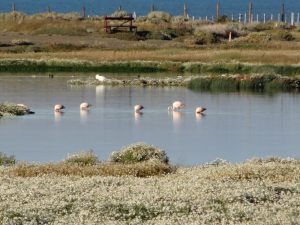 Eventually, I settled on a dusty public campsite on the outskirts of El Calafate, which was still overpriced but cheaper than the hostels.  I knew Patagonia was more expensive that most of South America but the remote, tourism-focused region was beginning to burn a hole in my already small pocket.

To the Glacier We Go

That next day I set off on a gorgeous but horribly windy ride in search of the Perito Moreno Glacier; 1 of the 48 glaciers fed by the Southern Patagonian Ice Field.
The entrance fee of $20 to Los Glaciares National Park was like the rest of Patagonia, a little steeper than I expected.  But that concern was squashed immediately by the brilliantly curved road wrapping its way around the lake.  It was an utter joy to dance with my unweighted motorcycle – a luxury when your life is packed onto your bike.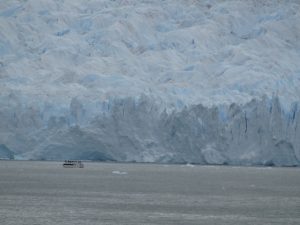 After about 30 minutes I rounded a bend and was greeted with the unreal sight of the Perito Moreno Glacier.  It was more massive than I could have imagined!  For some reason, lets call it ignorance, I decided to wait to take the boat tour until after I did the walking component.  Innocuous enough but my failure to check timetables would become a missed opportunity that I still kick myself for.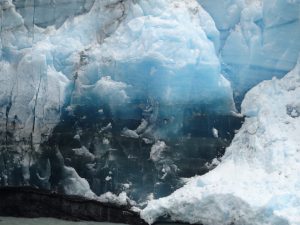 Strolling up to and along the skillfully laid walkways, a swath of visual stimulation greeted each visitor as they crested on each viewpoint.  A frigid blue moat kept the ever-so-slowly-moving wall of ice at bay while it groaned and creaked formidably.
Despite being a stable glacier (most are receding), the summertime weather granted an entertaining awe of noise and splashes as massive ice chunks cracked and crashed into the lake below.  It was eerie yet captivating.  I spent a couple of hours walking and taking in the scale of the natural wonder. In the distance I could see the minute ferries jockeying up next to the impossibly large ice wall.  Even though I knew that the glacier was 19mi (30km) long, 3mi (5km) wide, and 560ft (170m) deep, I walked away being unable to process what I had just spent two hours absorbing.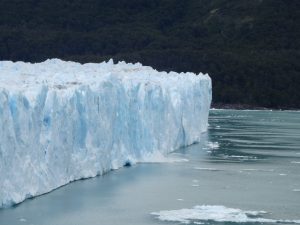 Wanting to take the ferry up close, I headed back to the little harbor to face the, then unknown, depths of disappointment.  I had missed the last ferry by 15 minutes.  Read the signs, you twat.
Still slightly annoyed on the ride back, I pushed the bike hard through the curves.  Concerningly, the engine started surging and losing power at high RPMs but seemed to maintain its familiar thump when cruising.  Just before getting back to town, my odometer clicked over 50,000 miles as I passed the burnt out husk of a car frame.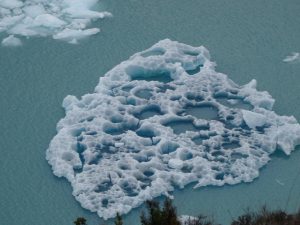 That night I settled into camp and hung out with a friendly Aussie plumber and an American who was riding his fat-tired bicycle back to his home in Colorado, USA.  All seasoned travelers, the stories exchanged over beers came easily and never disappointed.
Another unexpected and glorious crossing of paths.
Reunited with my first bike:  Chapter 27:  Full Circle
Start this journey from the beginning: Introduction