For over 10 hours I rode.
The back and neck aches became deeper and more frequent as my tolerance seemed to wane.  In a way, the numbing of my toes and fingers from cold, lack of blood flow and vibrations was somehow a beneficial distraction from the mania taking place up and down my spine.  It became a mental battle that I had to wage all day long.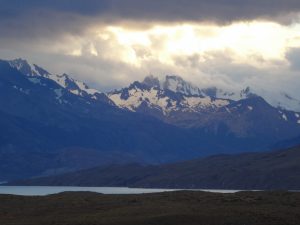 The winds were unbelievable; absolutely relentless and surging with power.  Just when I thought there may be a sniff of respite, the wind would shove my helmet across my face while I fought just to stay upright, nevermind on the road.  At times I had to slow down below 30mph to avoid being blown into oncoming traffic.  It was an exhausting, white-knuckled wrestle between mind and body.
And then came the dirt and gravel came.  It went on and on and on.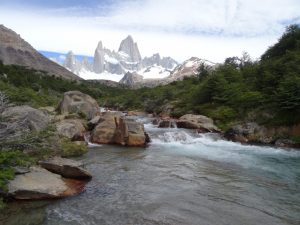 Almost There Until…
The turn-off for El Chaltén eventually came and a squeal of celebration was contained in my helmet.  Almost there!
Stopping numerous times for photos and videos, I was sucked into the majestic mountain scenery – a welcomed sight after many days riding through the inhospitable and barren Patagonian steppe.
After a quick stop at the park entrance for some more photos, I got back on the road and noticed that my front forks were vibrating unusually.
It quickly became apparent that I had a flat tire – 3 miles from El Chaltén.  You're fucking joking.  MY FIRST FLAT TIRE IN MORE THAN 6 MONTHS OF RIDING THROUGH SOUTH AMERICA!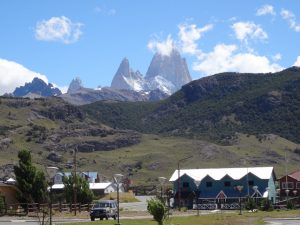 Using my little hand pump, I tried to inflate the inner tube enough to get to me town.  But that lasted less than a mile before I was flat again.  Fading daylight, 10 exhausting hours of riding, and my destination that lay less than two miles ahead had me saying fuck it.   I forgoed changing my inner-tube and gingerly proceed at a snails pace into town.  Not a recommended strategy but I just wanted to get to town, rest, and deal with it tomorrow.
Limping up to my accommodations, I took a room at Hostel Los Viajeros.  I was absolutely buggered and barely had the drive to go find dinner.

Restoring My Faith in Humanity
I planned on being in El Chaltén for a few days but I wanted to get my bike taken care of first so I could focus on staying present in this magnificent land.
Having only ever changed a bicycle tube but never one on a motorcycle, I wasn't all that confident in what I was doing.  Luckily, there was a gomera (tire shop) a few blocks away, although it was a struggle to nail down an employee to actually do some work on my bike.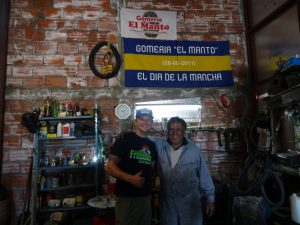 After lots of missed connections and revisits to the shop, I finally found the owner.  He graciously showed me the process of taking off the wheel, changing the tire, and putting it back together again.  On top of all of that he refused to accept any sort of payment!  Instead I was encouraged to watch and learn from the master while I sipped yerba maté with some local guys that were hanging out in the shop.  It was an incredibly humbling experience in so many ways.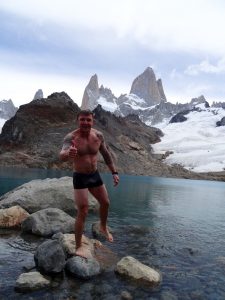 An Unforgettable Trek
After meeting an Aussie named Chris at the hostel, we decided to partner up for the 12 mile round-trip trek up to Mt. Fitz Roy; hitting a squat but thunderous waterfall along the way.
The hike was preposterously beautiful as we skated around glacial rivers and through windswept forests.  The spires of Mt. Fitz Roy inched closer and Chris and I briskly overtook most others on the trail.  The temperatures varied and the adjustment of layering was continuous.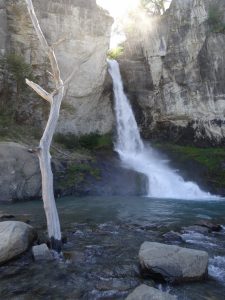 The aesthetic combination of majestic mountains, snow caps, rivers, rocks, glaciers, and forests held our attention through every step of the journey and it made the steepness of the final ascent more bearable.
Sweatily we climbed up and up.  As with summiting most hills and mountains, we were led on by a series of false summits; natures way of toying with us.  We'd clamber up a tough section, thinking that we'd finally made it, only to look up and see that we'd barely made a dent.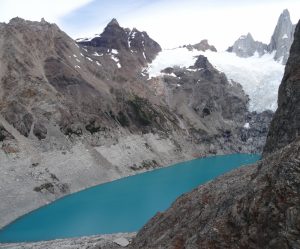 Mt. Fitz Roy & Glacial Lakes
The top came and I exclaimed with reverence, "Jesus Fucking Christ! What a view!"  It was easily one the most beautiful sights I have ever laid my little peepers on.
A giant ice cream scoop had seemingly taken a chunk out of the mountain.  In it lay the turquoise glacial lake of Laguna de los Tres with a rock and ice cascade leading up to the spires of Mt. Fitz Roy.  It was obscenely perfect and yet was clearly not a hospitable place for humans to thrive.

Chris and I ate our packed lunch among the giant boulders and soaked in the mesmerizing view.  A mother and son summed up the courage to jump in the frigid Laguna de los Tres while dozens of other hikers watched.  Encouraged, inspired and wanting to keep up with the theme of aliveness through jumping into cold bodies of water, I decided to do the same.
So, after a trip to the other side of the lake to see the surreal Laguna Sucia, we looped back around for my polar plunge.

In front of about 75 people, I got down to my underwear and waded into the absolutely freezing body of water.  At about waist deep, my external organs tried to join my diaphragm and I tried to convince myself that this was a grand idea.  Sinking below the waterline, I relented to the cold shock and breached the surface within a second or two, before wading out in front of some amazed and/or shocked onlookers.
Before getting too cold, I used my t-shirt to dry off and hurriedly got dressed into what clothing I had that wasn't wet.  The hike back down was quicker – as it tends to be and in this case, it needed to be so that I didn't freeze.  Thankfully with the brisk walking and descent into the warmer valley, I was dry by the time we got to town.  To celebrate a great day, Chris and I stopped at Cervecería Artesanal Chaltén for some quality beers and people watching.
Upon departure though, my legs tightened up like a slipknot.  It was agony.  I limped behind Chris as we made the final walk back to our hostel.  No real exercise for months and a rapid 12 miles hike turned me into the walking wounded.  Chris and I beat the estimated hike time by 3 hours and I paid for it.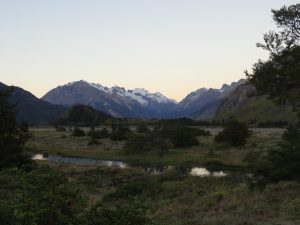 The next day, Chris departed and I stayed on to rest – spending the day sipping coffee and surfing the internet at a local cafe.  To save a little money and enjoy the surroundings, I found a campsite on the edge of town that gave me views of the mountains and the river below.  The moon and stars shone with an extra brightness that night.  I knew that I was getting close to finishing out my grand journey but I had also finally made it to the mystical mountains of Patagonia and I didn't want it to end.  Life at home seemed so impossibly far away and yet I knew that I would be back in the thick of it in less than a month.  This dream was continuing but I knew I had to wake up soon and I wasn't ready for it.
Up next, Chapter 26:  El Calafate & Perito Moreno Glacier
Start this journey from the beginning: Introduction
For more information on visiting El Chaltén