Dear Boulangeries,
Somewhere between the pigeon shit and human piss stained cobbles, I found myself admiring both the obvious and subtle delights of Paris.
Most of my fellow travelers are rightfully enticed by the magnificent architecture, the allure of French cafes and brasseries, mind-altering art, or the enthralling history of this worldly city.
But for me, the boulangeries have become my favorite reason to visit.
Your baked enticements waft around corners and up into my nostrils, calling like a diabetes-inducing pied piper that has valiantly fought off the depressing scourge of low-carb enthusiasts to deliver reasonably priced delights for my turned-on taste buds.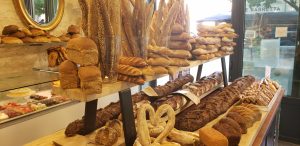 It almost should be a crime to break up your carefully laid out display cases of floured masterpieces.  However, the real crime would be to waste a single one of those mindfully crafted creations.
More than once, on my drunken shuffles home, I witnessed your powerful bakers toiling away at all hours of the night – preparing your perfect dough for the next round of delection.
And it has to be perfect.  For your clientele are arguably the elite of the global culinary consumers.
If your boulangerie is subpar, you're toast.
Every neighborhood has its own slice of baked paradise and so it's eat or be eaten.  But given the context, it's a little confusing which you want to be.  Seriously dough, as a batter of fact you knead to be on your game.  Okay, I'll stop.
I will return to Paris for you, my beloved boulangeries.  I'm breadly serious.
Bake a little extra for my next visit.  I plan to overdo it.