The border crossing from Ecuador to Peru could have been easy but my inability to find an illogically placed unmarked building for my motorcycle exportation stamp made the whole process more frustrating and significantly slower than it should have been.
My mood wasn't helped by the fact that I had just said goodbye to Martin the day before.  He was flying home to Germany for work but was to return the next year to continue south on his Pan-American journey.  Our impromptu travel partnership ended up lasting two life-changing months, even though we were initially going opposite directions when we first met and that could have very nearly been our sole interaction.
Martin was a great travel partner, adventurer go-getter, and get-shit-done type of a human.  I could trust him and rely on him when things got tough and we could also have a laugh and a beer with ease.  In a short period of time we became life-long friends and despite the sadness in parting ways, we knew we would see each other again.  He would've been good to have around for this pain in the ass border crossing.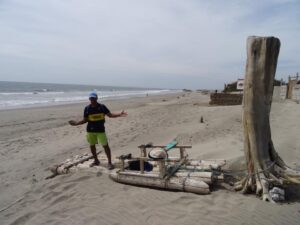 Mancora and Mad Max-land
Once through the border, I unsuccessfully raced the sun to my first destination of Mancora– a tranquil and touristy surfer town a couple of hours south.
Mancora reminded me a lot of Montañita, Ecuador; except probably what it was like 10 years ago before it became so built up. A mixture of hostels, restaurants, surf shops, beach wear, and souvenir shops made up the fairly established tourist area while the local spots are a little more off the beaten path.
As one of Peru's best surf breaks, locals and gringos flock to Mancora for surfing and great beaches.  Thankfully I showed up on their shoulder season and the hoards had not yet arrived.  With the waves slushy and needing to keep myself injury free, I made an early decision to reluctantly skip surfing and instead opted for a calm but short stay.  Frankly, I needed to rest, especially with the massive distance I had to soon cover.
I hit the road with a vengeance after a two night rest in Mancora. I had three days to get to Lima, which lay almost 1,200km away.
The expanse of the desert in northern Peru is vast and difficult to explain in writing. I found this out first hand while averaging 110 kilometers an hour for successive 7+ hour days. Straight roads and inexhaustible wind mixed with trucks and buses whipping past to create a ferocious vortex of air currents.  This vortex tried its best to push and pull me off the road with every big vehicle coming the opposite direction but my valiant struggles to stay upright and alive prevailed.
The Mad Max-like wasteland was beautiful and yet puzzling.  How and why did people settle, survive, and continue to live in such a seemingly inhospitable landscape. I didn't stop to ask.
My respite from the desert came when I headed east into Huaraz. Snaking roads wrapped through incredible mountains and valleys lent many screaming-in-my-helmet-in-awe moments before I eventually made my way back to the coast and down to the sprawl of Lima.
Lima
Part of my rush to get to Lima was the fact that I had a friend from home, Jade, flying in to travel with me for a few weeks.  I wanted to be there to pick her up and make sure our hostel was ready.  The airport reunion was a happy and joyous one but Jade was about to get an early travel lesson; one of many in her first international adventure.
Immediately upon leaving the airport, we were confronted with a common challenge; not letting the taxi drivers hustle you. The dozens of eager drivers were attempting to charge us more than 3 x the price that I had paid to get there. After much haggling and stern refusals, I got one of the drivers down to a more acceptable level and we were then away to our hostel.
The next day we had our breakfast and ventured across the street to the impressive Lima Art Museum known locally as MALI. The tasteful and ornate building houses an impressive display of pre-Columbian to modern art. As with most visits to an art museum, we felt slightly more cultured upon our departure.
A long stroll to the free Inquisition Museum was slightly disappointing due to a rather small exhibit.  I can't believe the free museum highlighting the atrocities of the Catholic Church wasn't as grand as I hoped.

We did get to see a wide array of architecture and buildings on the walk, including the impressive Palace of Justice. Among other parks, plazas, and landmarks we saw, we had a rendezvous with my travel/biker buddy and everyone's favorite Israeli; Nir. He was coming to the end of his journey and needed to venture back north for his flight soon. One of the drawbacks to meeting so many good people while traveling; the constant goodbyes.
Jade got an early taste of some of the nightmarish traffic one faces when riding through the big South American cities. Lima happens to be one of the worst I have dealt with thus far and she got to experience it on the back of my bike during rush hour. Innumerable buses, taxis, and masochistic locals, combined for a near gridlock, smog inhaling, horn blaring of a time.
Once again, the static traffic conditions caused my motorcycle's engine temperature to sore – the danger of a blown engine running dangerously close – thus the need to get through the utter mess of traffic increased dramatically.  Jade once again faced another massive learning experience, this time a lesson in the road rules, or lack thereof.  A crash course of lane splitting and curb jumping while dodging pedestrians was part of the impromptu curriculum for the day.  In reflection I can see how it might seem like the work of an entitled gringo to ignore the road rules and ride for a moment on the sidewalk, but my motorcycle was about to overheat in the middle of Lima's rush hour.  It's one thing if it was just me but with a new traveler on the back, we needed to get the hell out of there.  Needless to say, both Jade and I were utterly relieved to park the bike and get into the hostel.
The Desert Oasis
After a few days in the city, it was time to head south along the coast to the town of Huacachina. This village, just a few kilometers from the much larger town of Ica, sits inside a wave-like bowl of sand dunes with an oasis in the middle. Like something out of a movie, it still didn't look real even though it stared us in the face.
Arriving as the sun was setting, the option to camp was made apparent. Camping? Sure! The idea of a nice campsite near an oasis seemed perfect. Instead we got a sandy patch behind a bar amongst some struggling trees and random old furniture that hadn't quite made it to the dumpster.  It sounds awful and it was.  But instead of groaning about what we didn't have, we laughed joyfully at the absurdity of the two of us sleeping in a tent behind a bar next to an oasis in Peru.
Arising a shade groggy from the bar music that played into the wee hours, Jade and I went a few blocks down and boarded a dune buggy. I assumed we would just cruise the dunes and be dropped off at random points for sand boarding.  I suppose the roll cage, racing seats and harnesses, not seat belts, should have been a clue. As the ignition lit up the thunderous V-8, the collective mood went from light and jovial to slightly confused with a thick layering of nervous excitement.
Within about 20 seconds of roaring up a dune, I concluded that the driver of this charged up boisterous buggy has arguably one of the best jobs in the solar system.  With his little son in the co-pilot seat, the driver ripped his way up, down, and around dune after dune.  At the crest of every dune, the accelerator would be flattened by our death-wished driver and we would plunge down the other side; my stomach doing its absolute best to escape through my throat.  As we gunned it down each dune toward certain carnage, I imagined all eight of us tourists felt the same.  This might be it.  We might actually die.  Hope it doesn't hurt.  
Stopping at various points to avoid inducing heart attacks and I suppose also to sandboard, we managed to successfully acquire fine granules of eroded rock in every crevice of our bodies, despite our best attempts to stay upright and out of it.  Like water, sand is hard when you hit it with force.  Somehow despite accidentally cramming sand in every orifice and bouncing like a raw chicken thigh down the steps, the sandboarding was still tamer than the sphincter puckering death buggy.  And I would do it again in a heartbeat.
The adventures continue in Chapter 10:  Pushing the Limits from Nazca to Machu Picchu
Start this journey from the beginning:  Introduction