Nazca 
Reluctantly leaving the desert oasis of Huacachina, Jade and I rode several hours through the bone dry landscape to our next destination of Nazca. The sun was setting and the tourist-driven town afforded us ample options of hostels, hotels, and restaurants.
The next day we shot off early through the mountains towards Cusco but not before trying to grab a glimpse of the mystical Nazca Lines. The reviews and feedback I had heard was that the best way to see the Nazca lines was to go up in a relatively pricey plane, yet you could only grab glimpses for a few seconds at a time. Even still, despite my longing to see the world famous lines from up high, nobody whom I spoke with seemed terribly impressed with their experience. So instead Jade and I used elevated land by the roadside to see a few of these ancient images. The views were limited but the immense scale was palpable. Sparse desert, rocky surroundings, and a whistling wind created an eerily surreal environment for this artful form of communication by the Nazca people.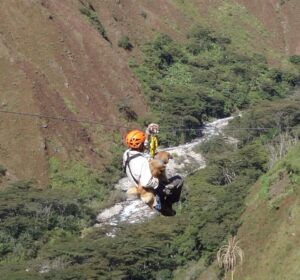 The Peruvian Altiplano                                                                                                                         
After our brief stop, it was back on the road for a slow and winding climb up and over the mountains. Jade's strong
discomfort with precariously high cliff-side roads became apparent as she clung to me tighter with every hairpin turn.
For what seemed like hours, we climbed and climbed and climbed. The air got colder and so did we. Generally the mountain passes have a descent on the other side…not here…welcome to the altiplano, you have reached the top.
The Altiplano, Spanish for "high plain," is also known as the Andean plateau. It's as it sounds. High up and flat. There are higher peaks around but essentially we climbed to the top of a 12,000ft table and we had to get to the other side, which was hours away.
Freezing and relentless winds were our unwanted companions as we periodically had to stop to add more layers. Herds of llamas and their smaller brethren, alpacas, dotted the landscape and created temporary road blocks. Towns made of mud bricks popped up occasionally but it seemed most of the hardy locals were either gone or inside out of the biting wind.
Earlier on in the climb to the altiplano, the bike began to make an odd noise at higher speeds. A whining whistle if you will. I did not alert Jade because I didn't want her to worry but eventually she could hear it. The noise would stop once I geared down and so it became difficult to assess what it was while flying along a road with intense winds. We could do nothing else but press on at a much slower pace than we could spare.
The familiar race against the sun began.  We had started early enough to make the massive haul across the Altiplano in the light but motorcycle troubles had slowed us down substantially.  A vibrant pink sunset glowed upon us on the other side of the Altiplano and eased our descent into the warmer river valley.   As darkness pushed out the pink sky, the little mountain town of Chalhuanca shone like an extravagant beacon.  Absolutely drained from the day but happy to be out of the frigid Altiplano air, we shuffled down the road to the local restaurant and ate among the locals before dragging ourselves to our hotel and slinking into bed.
Cusco
Our final push for Cusco began early on a warm sunny day. The snaking river valley slapped our eyes with incredible scenery and the curvy roads brought nothing but absolute joy.
As the day moved along, snow capped peaks became our watchers as we made our way through multiple mountain passes. Finally, with our last frigid ascent and descent, we reached the maze of one way streets of Cusco.
After two long and cold days on the bike, our patience was wearing thin. Private rooms in Cusco hostels are relatively expensive and as we learned, also in limited supply. Shopping around aka riding back and forth proved fruitless and so Jade's first taste of multi-bed dorm-style hostel living began…which included the obvious interruptions of late night arrivals, roommates with food poisoning and the subsequent sickening noises of vomiting and heaving.  A private room would have been far preferable but there was definitely a part of me that was happy Jade had the experience.  It was her first time overseas and like many people back home, she had the wrongful assumption that all this traveling is glamorous.
Cusco is probably my favorite town or city in Peru. The striking colonial architecture creates clean, aesthetic lines along the cobbled streets while the overall lack of garbage strewn about and the wider food selection was a welcomed change. The downside to the excessive tourist-catering was the presence of corporate restaurants, such as KFC and Starbucks, crammed into some of the most beautiful and historic locations in the entire city.
Besides an unproductive trip to the mechanic to see if the noise from the bike could be remedied, Jade and I visited the Pre-Columbian Art Museum to admire a staggering collection of Incan masterpieces.
Strolling just a few blocks southwest, we found ourselves in Plaza de Armas.  The Pre-Columbian name of the square is Huacaypata and it has been the site of several significant events in Peruvian history, including the proclamation of Francisco Pizarro during the Spanish conquest and the torture and execution of the famous chieftain Túpac Amaru II, who led a large Andean rebellion against the Spanish.
With the last rays of the setting sun glowing throughout Cusco, we needed the final ingredient to make us true gringos in Peru; alpaca sweaters. No local wears them and they're not traditional. Let's get that straight. But they are comfortable, warm, and at home they are unique. The highly recommended San Pedro Market was closed but the multitude of stores, street vendors, and a secondary market gave us plenty of options. We found what we wanted. Mission accomplished.
That night we booked a last minute three day trip to Machu Picchu. This bucket-list site was one of the top must-sees for me and I was thrilled at the prospect of sharing the experiencing it with a loved one.
Getting to the Sacred Valley

The next day we boarded a mini-van with about 10 other young people from around the world for a beautiful drive up to a
4,000 meter mountain pass. We all exited the vehicle to get geared up with pads and helmets for a two hour, 3,000 meter mountain bike descent. Then the rain came.  Riding down with the van was obviously the warmer and dryer option but it felt like a let down, so we decided to drink some concrete and harden up.  Frozen to the bone after 45 minutes of bombing down a mountain pass, respite in the form of warm sunshine graced our rain-soaked clothing and we finally got to relax into the ride as the blood returned to our finger tips.
Once out of the clouds, the views were absolutely breathtaking. Concentrating on the road became dangerously difficult as the snowcapped mountains down to the jungled valley below distracted us at every high-speed turn, which included countless large streams and mossy crossings.
Furthermore, a Dutch girl we nicknamed Speed Racer seemed to become the greatest threat to our safety as her competitive spirit and obvious lack of sensible cycling (ironic for someone from Holland) made for countless poor choices. Her constant veering into the path of us and other cyclists while jamming on the brakes instead of smoothly rounding corners made for some hair raising riding. Speed Racer's comedic relief came from her then furious attempt to make up for her dramatic brake slamming turns by hunkering down like a downhill racer and peddling like crazy while everyone else maintained a relatively constant level of speed by using the crazy concept of gravity, wheels, and braking.
After a couple of hours of near constant descent, we came to a stop in the much warmer valley below. The bikes were packed up and we headed to lunch. Being short on time due to Jade's impending flight back home, we were skipping a day and thus took a taxi to the next town.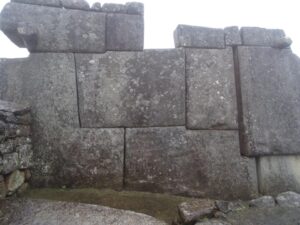 Packed into a station wagon with five other men (one sitting in the trunk with bags of potatoes), the taxi left the tranquil town and shot up along a dirt road until we were flying along a 1 1/2 lane road thousands of feet above a river valley. There was absolutely nothing to stop our fall except for the driver at the wheel.
Rounding corners at unnecessary speeds, we came perilously close to hitting cars going the opposite way. Jade's hyperventilating started early and it was accompanied by her nervous nails digging into my arm. While I enjoyed the chaos and adrenaline rush of the experience, I'd be lying if I said my butt hole wasn't puckering, especially as we aggressively rounded turns on the dirt road, thousands of feet up.  My only regret was not sticking my new GoPro out the window to capture the absolute insanity of the commute.  It's a strange feeling though, even as I write this.  That is a daily commute for dozens if not hundreds of people a day.  For most gringos like me, it would be one of the most intense driving experiences our lives.
Much to Jade's relief, we eventually came to our destination for the night in a little remote town in the mountainous jungle. Our relatively basic accommodation suited our needs just fine as we relaxed before dinner and meeting our tour group for the next two days.
Our much anticipated activity the next day was zip-lining. A long-awaited life experience, I believe I waited until one of the ultimate destinations for this exhilarating flight-like activity. Cola de Mono in the Sacred Valley zipped us over the jungle canopy at speeds of up to 60 kph (40 mph) hundreds of feet in the air. Zigzagging across the valley, we went from hilltop to hilltop.  Innumerable wild purple flowers waved in the breeze at every departure and arrival station.  Every participant let out a scream of terrified joy at some point as we took turns traversing the valley by our own choosing – sitting, superman, upside-down, or backwards.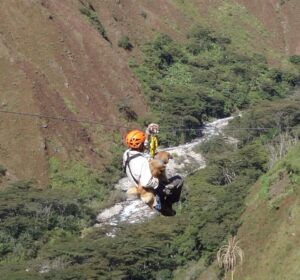 My physical reminder that I am still human and need to be more careful occurred on the second leg. To brake, each zip-liner uses a thick leather hand grip to press down on the steel cable.  As I went to slow down before arriving at the next station, my hand slipped on the cable and it burned layers of skin off from my thumb to my elbow. It didn't take long for the cool air to sting my exposed nerve endings that just moments ago had been happily covered by the usual full allotment of ectodermal tissue.  Now I had a weeping, tender strip down my right forearm that I knew would cling to my clothes for days.  You really are talented at finding unique ways to hurt yourself. 
Coming down from the natural high of flying, we boarded the vans and headed to lunch near the big hydroelectric dam. After a short relaxation in the hammocks and a precariously high acquisition of avocados from a tree, we were off for an unforgettable trek along very active train tracks through the sacred valley.
For hours we walked through the anfractuous valley. Towering jungled mountain tops mesmerized us as a heavily flowing river showed its unrelenting power. The aura of the Sacred Valley was making itself known and we were enchanted.
Within an hour of Aguas Calientes; our home for the night, the guard towers of Machu Picchu could be seen. Thousands of feet up, teetering on the top, they were barely visible. However, their brief sight filled us with excitement because we knew the next day was our day to traipse around one of the most mythical sites on this planet.
Arriving in Aguas Calientes/Machu Picchu Pueblo, we were greeted by a surprising amount of development and obvious pandering to tourists. A quick run to the hot springs was a perfect spot to relax before dinner, although keeping my zip-line-burnt arm out of the water was a little tedious.
Machu Picchu
The general recommendation to beat the crowds is to get up at the uncomfortable hour of 4 AM to make the ascent to Machu Picchu. You can either take a bus or hike the butt-burning amount of stairs. We decided on the latter but waking up to a cold downpour of rain at the ass-crack of dawn swayed us to take the bus up.
After reconvening with our guide and group at the top, we entered the gates to the mystical mountain top. Before we knew it we were looking over the ruins of Machu Picchu in absolute awe. I almost could not believe we were there.  I wanted to sit, run, scream, cry, and laugh all at the same time.
We weaved our way in and out of the ruins as our guide explained what is known of the ruins. Some of the proposed theories of the purpose of Machu Picchu is that it was a both a royal retreat for the Incan elite as well as a place of learning for young Incans. The lack of written word in the Incan culture makes it difficult to say with certainty. Thankfully the Spanish conquistadors never found Machu Picchu and thus it escaped the destructive trend of the conquerors.
The rain let up briefly to start but sporadic showers accompanied us throughout the exploration. As we returned to the entrance for a snack, the rain started coming down again, this time in unrelenting sheets, which forced us to huddle under leaking umbrellas in the restaurant area.
We hoped it would end soon. It didn't. It rained. It poured. It did everything in between. Clothing wise we were under-prepared despite our rain jackets. The guide told us it would be warm. He lied. Thankfully Jade and I had each other for warmth while we sat under the cover of the umbrellas for over four hours.
With time to sit and observe, we noticed droves of tourists kept turning up with the relentless schedule of buses. The poor visibility due to the clouds and rain were an immediate hindrance and the line to board buses to go back down grew and grew. Hundreds of cheap, multi-colored trash-bag poncho wearing tourists stood in the pouring rain waiting for the buses. Not quite the perfect day everyone had undoubtedly hoped for.
Jade and I had quite the dilemma. We had just enough cash on us to either take a bus down the mountain or to walk down and be able to buy food. The massive line waiting in the rain for the bus was an immediate deterrent and so we waited. The rain let up briefly enough for one more quick return visit to the ruins and I made the case to Jade that food was more important than a bus ride. In the momentary lapse of deluge, we made a break for the stairs and happily scampered down the path out of the clouds.
The rain put a bit of a cold damper on the day, no pun intended. But we honestly couldn't complain. Machu Picchu was every bit as incredible as I had hoped. In some ways the clouds added to the mysticism of the ancient Incan site and so we enjoyed it nevertheless. Furthermore, a delicious alpaca burrito and dry clothes were my reward upon getting back to town. Unfortunately, we had more than 6 hours until our train left the station. Using what little money we had left (the rest was back in Cusco), Jade and I walked from food stand to food stand sampling everything from donuts to meat on a stick. A fantastic use of time.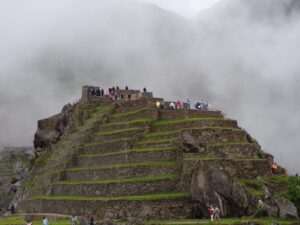 After a couple of hours sleepily sitting around the train station, we finally boarded the train that night and passed out immediately. Disembarking at the town of Ollantaytambo, we groggily trudged our way to the typically disorganized collective of tour agencies and their drivers. After 15-20 minutes of poor communication through mild yelling and lack of signage, we, along with hundreds of other travelers, were taken to our respective buses and vans. Another nap and we finally made it back to Cusco around 2 AM and happily climbed into bed back at our hostel.
The Cold Ride Continues South…
Needing to get to Bolivia, Jade and I packed up the bike and left Cusco that next afternoon after a desperately needed sleep. We only made it a few hours before darkness and the cold forced us to stop in a small town near Lake Titicaca.  Parades of lantern-carrying children provided a warm welcome for us as we checked into our hotel.
For our final full day in Peru, we managed to get pulled over twice during police checkpoints (we usually just get waved through) and both times were asked to produce paperwork, of which I had less than brilliantly put in my bag, buried and strapped down on the back of the bike.
Our final night in Peru was sadly spent in a dump of a hotel. Not necessarily by choice. Options in the town were extremely limited and honestly, the best hotel was the one we were in. Even still, the hotel was such that I did not want to even use the shower. It was something out of a movie. Cockroaches, grime, stale sheets, and dust bunnies the size of raccoons did not inspire optimism.  But once again, there was a small part of me that was happy Jade had to experience the less-than-Instagrammable side of travel.
Peru provided some of the most incredible natural and man made wonders I have ever laid my eyes on. From the desert to the jungle, from the altiplano to Machu Piccchu, it is a land of stark contrasts and unquantifiable beauty. There were some difficult travel variables to navigate but after four months of riding through South America, I felt at home on my motorcycle and on the road and that almost any challenge could be overcome.  How am I supposed to go back to "regular" life after this?
Up next, Chapter 11: Bobbing & Weaving in Bolivia…Lake Titicaca, the nightmare combination of being sick in rush hour La Paz traffic, and the dreamscape of the salt flats.
Start this journey from the beginning:  Introduction