In typical Tierra del Fuego fashion, I battled high winds and bouncy roads all the way to the border with Argentina.  This was to be my final border crossing on this wild adventure south and while my emotions swirled like a tornado inside of me, they were dampened by the angst of my impending attempt to use fake motorcycle papers – not something to be taken lightly.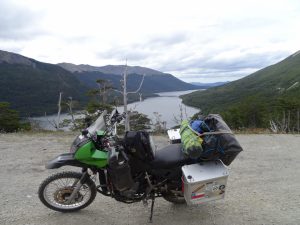 Faking Your Motorcycle Papers
I had asked one of my former travel companions to Photoshop my motorcycle papers into my name as I wanted to make a potential sale easier.  Up until this point I was using a notarized letter of permission from the previous owner in order to circumvent the import taxes of a foreign registered motorcycle.  There were only a couple of times on the whole trip that the letter was scrutinized, however, I wanted to make sure there were less potential hiccups when it came to selling the bike to a local or another traveler.
While the idea of faking papers and crossing international borders is admittedly a little dodgy, this is widely practiced among adventure riders and those buying/selling these types of motorcycles, in these types of places.  Knowing that it had been done many times before but that it did pose legal risks if caught, I nervously approached the border agents to begin the process.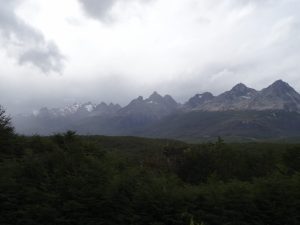 It helped that the local border agents had no way to determine if a foreign registration is legitimate or not, but it was hard not to overthink every facial movement of the customs official.  His left eyebrow shift upward slightly.  Oh shit.  I wonder if he's suspicious.  He probably is.  Fuck.  I'm screwed.  Oh and he stamped the paperwork.  Nevermind.  We're through!  Act cool, just proceed calmly – you're not in the clear yet.

I contained my internal elation as best as I could until I was waved through the last security checkpoint, at which point a celebratory helmet scream was bellowed inside my helmet. Now it was just a few more hours of riding before I got to Ushuaia; the southernmost city in the world.
My dirt riding was thankfully over for the day and I hugged the windy coast down to the industrial city of Rio Grande, before heading west.
The sparse land changed dramatically and suddenly as it gave way to trees and mountains.  The climate became much wetter and I hoped that the light rain would not get any worse.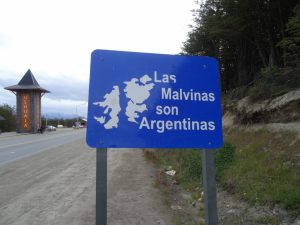 With an hour to go, I finally started to let myself relax.  A flood of memories from this insane adventure began to pour through me.  Welling emotion bubbled with each passing mile and it caught me by surprise as my anticipation of this forthcoming moment was purely excitement and jubilation.  Rather than simply happiness and elation, these final miles to the finish were revealing a confluence of emotion, sentiment, and feelings of all the trials, tribulations, struggles, and triumphs of the last few years.  It was all now leading me down one road to the end of the Pan-American Highway and my mission was ending soon.
Happiness to achieve my goal, sadness that it was ending, gratitude that I even had the opportunity.  It was all about to come to a head.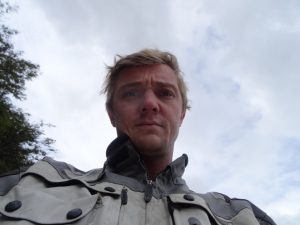 The Entrance to Ushuaia!
Coming down on the other side of the mountains, I started to see campgrounds and beautiful streams in amongst the lush forest and low slung clouds.  Travelers were periodically stopped along the highway and were erupting in cheers and applause as I passed them.  It was not something that I had expected but it was clear that all of these travelers knew I had taken a long and dangerous path to get here and my moment was upon me.
And then it came.  The welcoming gate to Ushuaia.
While it is not the true end of the Pan-American Highway, the gate to Ushuaia is a highly symbolic place, as it typically represents either the beginning or the end of a massive journey.  Even for Argentinians.
Other journeyers, on motorcycles and in cars were taking pictures in front of the entrance and it's obvious that it meant a lot to everyone taking a moment to be present with this man-made gateway.  For those that just finished, we all knew it was a tough road to get to this point and the smiles on everyone's faces showed the excitement, relief, and mutual respect for everyone who made it.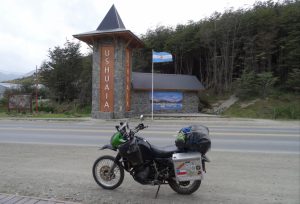 For me, I patiently waited for my turn to take photos and to have a moment to myself.  My outward display of emotion is usually limited but I struggled to keep it together in this moment.
I was so ecstatic and happy but the tears running down my face were products of multi-layered emotion.  It took me three years from conceptualizing the idea to reaching the southern most city in the world.  The journey was one of the most trying and testing things I had ever done.  I had been almost killed and/or maimed countless times.  I had been robbed, I had crashed my bike, been lonely, sick, cold, hungry, exhausted, and humbled by the generosity of strangers.  But I finally made it!
Wanting to marinade in the moment a while longer, I hung around and watched other travelers come and go.  An Argentinian family from the far north pulled up in a little sedan and got out excitedly as they had driven thousands of miles to get here.  Their excitement was infectious and they greeted me with big smiles and asked if they take photos with me, which I readily agreed to.
After the jubilation, I started towards the town center – even high-fiving the policeman at the check point because I was so giddy.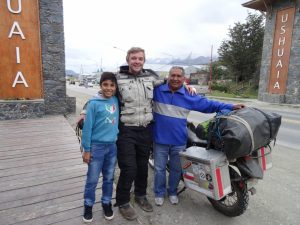 No Rooms to Rent
What I should've done was go straight to searching for a hostel but instead I went and had a celebratory beer and used the WiFi of a local restaurant.  I did try to book a hostel online but eventually gave up as it seemed everything was booked or horrendously overpriced. So, with darkness creeping in and with another rainstorm upon us, I went out in search of a place to sleep that night.
For two hours I rode around in the rain.  Like my internet searches revealed, every place was either fully booked or way too expensive.  This was not how I envisioned my celebratory night going and I kicked myself for not booking anything ahead of time.
Finally, after riding around in the dark and soaked to the bone, I found a cheap hotel on the outskirts of town.  It was owned and operated by a very sweet middle-aged lady who was unbelievably welcoming and hospitable.  What a relief it was!
That night I slept better than I had on the entire trip.  It seemed like my exhausted body and mind knew that it could finally rest.
Up next, the true end of the Pan-American Highway and how I sold my motorcycle on the black market!
Up Next, Chapter 30:  The End of the Pan-American Highway
Start this journey from the beginning: Introduction