Following the 4 hour nightmare border-crossing, Argentina was a welcomed change almost immediately.  The roads were better, the gas stations didn't deny foreigners, and the optimism of a new country lifted my spirits.  New countries always bring about a general giddiness in me, but after the roller coast ride of Bolivia, the sweet offerings of Argentina made it seem like the promised land.
The broad sky and long straight roads filled me with renewed energy as a tore along on my bike.  My first goal was to reach the town of Humahuaca–a beautiful little town a couple of hours south of the border.  I managed to reach the town as the sun was setting and opted for a pricier than normal hotel room rather than shop around in the dark after a long day.
After checking in, I headed into town to acquire some Argentinian Pesos (more or less Monopoly money due to outrageous inflation).  I came to find out that Humahuaca experiences regular power outages and I was thus denied by a lifeless ATM.  Thankfully, with a bit of patience and an absolute need for cash to buy food; the power came back on and I got what I needed.  I converted that monopoly money into delicious empanadas and dark beer (something I had not had since Ecuador).
That night I slept hard.  I was utterly exhausted and equally relieved to be in Argentina.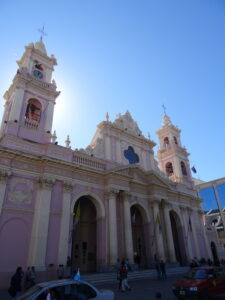 Salta
Crisp morning air made my eyes water as I whipped along the highway south to Salta.  It had been cold since I left the desert of Peru and Argentina was not letting up.  Daytime temperatures weren't too bad but riding was still chilly and nighttime was just straight-up cold.
Arriving in Salta, the city seemed to be taking a collective nap as there did not seem to be much movement.  Surrounded my parched mountains, Salta boasts attractive colonial architecture and stunning views from Cerro San Bernardo, which I later scaled on my motorcycle.  Failed attempts to visit a couple of closed museums meant that the other main highlight of Salta was a quality cup of coffee in a coffee shop – my first since Lima.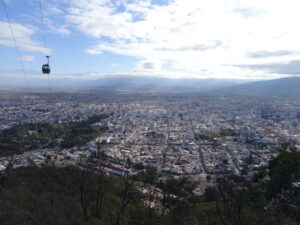 Tafí Del Valle
Oh what a serenely beautiful place!  After weeks and weeks of desert riding, the expanse finally broke after climbing up and over to Tafí del Valle.  The ride became frigid but I was thankfully distracted by the magical descent of winding roads, galloping horses, lush green hillsides and a lake so perfect that I nearly questioned the authenticity of reality.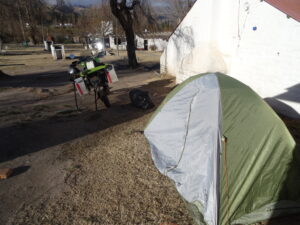 In town, I paid for a spot in the completely desolate campground.  It was clearly in the low-season and so I had ample options to choose from.  To protect myself from the incessantly cold wind, I put my tent up behind the wall of the outdoor kitchen and dining area.  A pack of campground dogs quickly befriended me and never seemed to leave my side except to chase away any perceived threats in the sprawling piece of property; only to return triumphantly with proud trots and big smiles on their faces.  For their loyalty and protection, I rewarded them all with a little of my spaghetti feast.  The Malbec wine I hoarded for myself.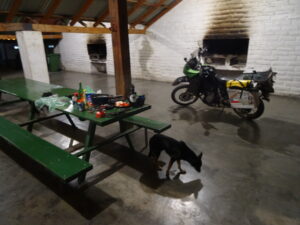 I imagine that Tafí del Valle is a tourist haven during the summer months, but despite the beauty and calmness of my surroundings, I knew that I had to keep moving as my funds were running low and as it was already June, winter was only getting worse the further south I went.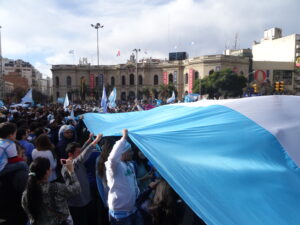 Córdoba

A famed student city, Córdoba was a welcomed injection of youth and infrastructure. It was the most developed city I had been in for what seemed like months and I happily welcomed it.
First things first, get the bike looked at.  My motorcycle had been making a strange wail at high speeds since Peru and it did not seem to let up all through Bolivia and now into Argentina.  My hope was that now I was in a bigger city in Argentina, I would be in better hands.  Half the day was spent riding around to closed mechanic shops until I was led to a Kawasaki specialist with whom I left my bike for a few days.
There are not that many actual sights to see in Córdoba but the general architecture was appealing with its grand roads and Plaza San Martin offered some colonial eye candy.  I was denied on two separate attempts to visit the Museo de la Memoria because it was closed.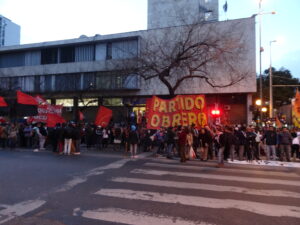 I received my bike back after a few days and despite being told it was all good to go, I knew the noise would continue and that my clutch, transmission, and suspension would all still be areas of concern.
My second to last day in Cordoba was spent drinking beer and eating empanadas with the hostel staff while watching Argentina take on Bosnia in the World Cup.  Argentina won the game in the closing minutes thanks to Lionel Messi.  Despite Bosnia being a "lesser" team, the city erupted into celebration and thousands took to the streets.  People were dancing, singing, chanting, waving flags, and drinking beer while the police just looked on…nobody was going to break up this party.
Atrocious Roads and Camping by the Highway
On the whole, the roads in Argentina were better than those in Bolivia.  Better but not great.  One long stretch in particular rivaled some of the worst paved roads I've ever ridden on.  Leaving typically late from Cordoba, I hummed along on my KLR in the desperate attempt to make it the small city of San Juan in Western Argentina.  I had told my host, Hector, I would be there that evening.
As the the afternoon glow turned to dusk, I became increasingly concerned with the dimming visibility.  The highway hadn't changed from its carpet bombed structure and I slowed even further to avoid my front wheel being swallowed up by the pockmarked road.
Eventually I came through a town and at that point I decided it would be foolish to push through to San Juan.  I found Wi-Fi in a public park and messaged Hector that I would not make it until the next day.  From there I bought a few groceries and rode out of town in search of somewhere to camp for free.  After several miles of looking for a side road to pull down, I gave in to the idea that I would have to sleep on the side of the highway tonight.  At least its not raining I suppose. 
The night was pitch black and eerily silent except for my headlamp and the crackle from my small campfire.  It almost felt like camping in the backcountry.  That is until the dark silence would be periodically shattered by high-beams and diesel semi-trucks barreling past a mere 20ft. away.  Obviously I didn't sleep much.
Following a scant breakfast, I hit the road and rolled into San Juan a few hours later.  Hector was waiting for me with wine, freshly cooked sausages, and bread.  Having never met the man, it was an unbelievable introduction.  As I came to find out, this was just the start of the amazing hospitality that Hector, his family and friends showed me during my time in San Juan.
Up next, Chapter 17:  Humbling Argentinian Hospitality
Start the journey from the beginning:  Introduction