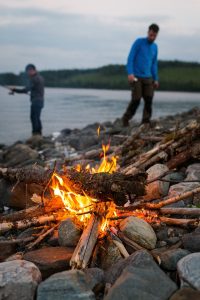 Camping with the lads has been a cherished experience since time immemorial. Our ancestors did this for tens of thousands of years; it's part of our DNA.
But it's not just an opportunity to have fun. There is ample evidence to show that friendships and nature significantly contribute to your health and well-being. Science has shown that time in nature and time with the boys is vital to mental health. Add in physical activity and new skill acquisition, and you have a recipe for a powerful psychological boost.
This article presents scientific evidence for why you should camp with the guys and some ideas for getting started.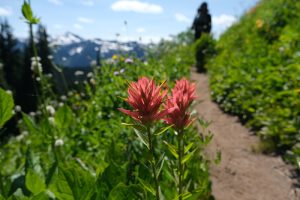 Natures' Benefits
Have you noticed how refreshed and invigorated you feel after spending time in nature?
Once you dive into the research, the compounding benefits of nature become more apparent.
Although it's a universal practice, the Japanese formally established the concept of Shinrin-Yoku (Forest Bathing) in the 1980s.  Since then, Forest Bathing has been studied and shown to have both mental and physical health benefits, including:
Cognitive enhancement
Emotional well-being
Decreased stress
Improved mood
Additionally, wood oils, called phytoncides, have been shown to improve immune function by increasing a specific white cell called natural killer (NK) cells.
With this mounting evidence of positive health benefits, can you afford not to spend time in nature?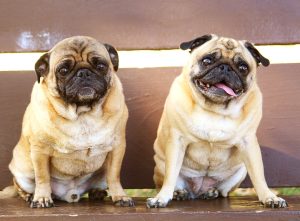 Benefits of Bromances
It should come as no surprise that friendships are essential to long-term health. If you're sceptical, there are acres of studies harping on the importance of relationships. Here are just a few highlights:
Robert Waldinger, the director of a long-term Harvard study, said in his TED Talk, "Good relationships keep us happier and healthier. Period." Socially disconnected people are "less happy, their health declines earlier in midlife, their brain functioning declines sooner, and they live shorter lives than people who are not lonely."
A University of California, Berkeley study reported: "Social interactions increase the level of the hormone oxytocin in the brain, and that oxytocin helps people bond and socialise more, increasing their resilience in the face of stress and leading to longer, healthier lives."
"…Mild stress can actually make male rats more social and cooperative than they are in an unstressed environment, much as humans come together after non-life-threatening events such as a national tragedy. After mild stress, the rats showed increased brain levels of oxytocin and its receptor and huddled and touched more."
Your friends aren't just there for a good time. They are strong indicators and quantifiable contributors to a healthy life. Don't take that for granted. These relationships should be fostered, and what better way than camping with your best mates.
The importance of spending quality time in nature with the guys, doing physical activity and learning new skills cannot be overstated. Each of these variables has been shown to improve both mental and physical health.
But how do we combine these ideas, maximise enjoyment, and still get health benefits?
Ideas for Your Next Guys Getaway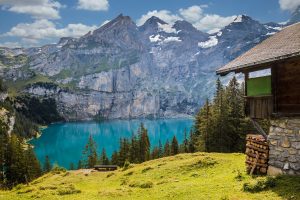 Rent a Yurt/Ski Hut/Cabin

Depending on what you choose, this will entail its own adventure.
Some Yurts and Cabins can only be accessed by hiking. Ski Huts are often accessed by snow shoes, skis, or snowmobiles. But there are options for all skill levels and interests, so don't let these ideas deter you.
Remember, mild stress can create more sociability and cooperation. So, lean into small challenges, and your friendships will grow stronger.
If you're adamant about minimal adventure and energy expenditure, there are many options that you can drive right up to.
Yurts/Cabins/Ski Huts also make a great bachelor party/stag do option for those looking for a less traditional escapade.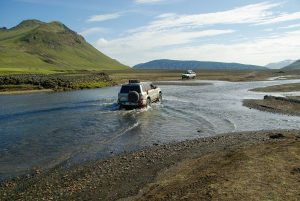 Overlanding

Overlanding can mean many things, but for our purposes, let's stick to the basic premise of 4x4s, dirt roads, and nature. Add in a handful of your best mates, and you're set.
You don't need an over-engineered rig to get started. Keep it simple with a map, food, water, cooler, tent, and 4×4 capabilities. You or one of your friends likely have everything you need to get started.
If you are in the market, Rooftop Tents are an efficient and comfortable addition to any car camping setup.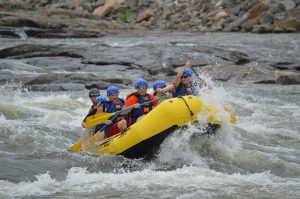 Take a Course or Guided Trip

We've learned that mild stress and skill acquisition are great for bonding and your psychological well-being. Knowing that, why not learn valuable skills in nature with your friends?
Your options are endless, but here are a few ideas to get you started:

Hire a guide, learn the basics of mountaineering and summit a peak.
Take a survival and/or bushcraft skills class.
Crevasse rescue

Get lowered into a crevasse and safely lifted out.

Creative/Educational classes:

Photography workshops
Writing workshops
Bird spotting

Whitewater Rafting
Not only will these activities give your physical and mental well-being a boost, but you'll become even closer to your friends. Which will, in turn, make you happier. It's a win-win-win situation.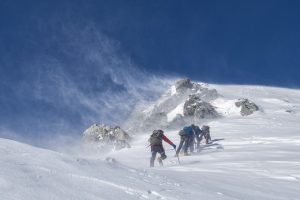 Time to Get the Lads Together!
The world is in a strange place at the moment. Politics, climate, and society can sometimes feel like an oppressive wet blanket.
More than ever, we need to double down on what is important; health, relationships, and our environment. These elements go hand-in-hand and we have a responsibility to take ownership of them. The ripple effect is too great to ignore.
So, grab your mates, start planning your next adventure, and let's have some damn fun!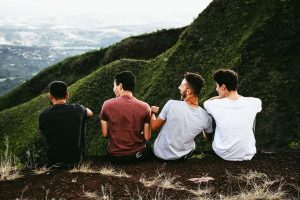 *This article first appeared as a guest blog for Men'sWear Style.