Portable Power Stations have come a long way in the last few years. Battery technology has improved dramatically, and new brands are popping up all the time. Frankly, there's never been a better time to consider a power station of your own.
That said, buying a Portable Power Station can be daunting. They're costly, and there are many options and equally as many considerations.
To help make your decision-making process more manageable, we have compiled a Guide to Buying the Right Portable Power Station.
By the end of this guide, you will have a much clearer understanding of Portable Power Stations and which model is likely best for your needs.
The guide includes:
Questions to answer before buying.
A glossary of terms and features.
Our recommendations.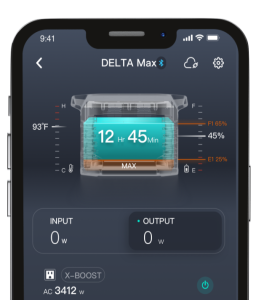 Questions to Answer Before Buying a Portable Power Station:
Question 1:  Do you even need a portable power station?
It may seem silly, but ask yourself if you're buying a portable power station because you need one or just because they seem cool. There are many good reasons to buy a power station, but they're not for everyone. Below are some reasons to consider purchasing.
Reasons to buy

: 

The power grid can shut down (ex., Rolling blackouts, solar flares, terrorist attacks).
Medical and health needs necessitate constant access to electricity.
Your work still has deadlines regardless of the power situation.
You want to make your campsite as comfortable as possible.
You and your family are heavy tech users.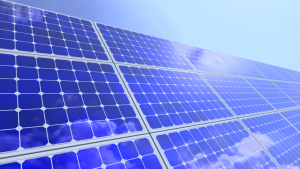 Question 2:  What is this for?
This question overlaps with the first, but it also helps to start narrowing down your options based on your needs.
As the name implies, portable power stations are mobile, albeit some more than others. When assessing your needs, ask yourself, "in what setting will you use a power station?":
Camping
Workshop
Office
Home
Survival Prep
All of the above
A clearer picture of where you'd use a power station and what electrical equipment you'll be using will begin narrowing down your best options.
For example; The more you plan to transport your power station…
Dimensions, weight, and portability become the more significant considerations.
Conversely, suppose you plan to only keep it as a power backup for your home office. In that case, your parameters might stray toward a large battery capacity and a high number of charging ports.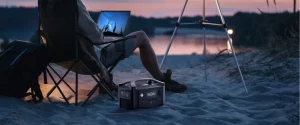 Question 3: How much power do you need?
Assessing your power requirements is arguably your most important question to answer. Thanks to an abundance of online resources and this handy guide, you don't need a degree in electrical engineering to figure it out.
What are you charging?

What you charge will massively impact your power needs. Gather up the devices you will use in your envisioned scenario. You might include laptops, phones, kitchen appliances, CPAP devices, etc.
The goal isn't to power your house (although some models can), so be selective about what you plan to use and charge.

How many devices?

Remember to check in with your partner, kids, or other potential users to assess how many devices they need to power.

How much power does each device need?

Arguably, Watt Hours is the most critical unit of measurement, both for your total devices and your Portable Power Station.
Some basic math will be involved, but don't worry; we'll walk through it with you.
Here's the basic process to determine power needs

:
Determine Watts for each device.

Most electronics have their Wattage requirements stamped or stickered on them.

You'll likely see a number for Amps if watts aren't listed. If that's the case, use this equation to solve for Watts:

Watts (W) = Amps (A) x Volts (V)

Figure out how many hours you want to use each device.
Next, determine your Watt Hours with this equation:
Total Estimated Use (in hrs) x Total Appliance Wattage = Watt Hours
For example:

Say you want to power an 84 Watt laptop for 3 hours:

3 x 84 = 252 Watt Hours

Divide by 0.85

85% is the rate of constant energy consumption while a device is charging.

252 Watt-Hours / 0.85 = 297 Watt Hours
Meaning you need a power station with at least 297 Watt Hours to charge a single laptop for 3 hours.
You will need to use the calculation above for each device you plan to power.
Calculate the Total Watt Hours by adding up all the Watt Hours from each device.
For example;

300 Watt Hours for your laptop
250 Watt Hours for your cell phone
800 Watt Hours for your CPAP machine
= 1350 Total Watt Hours 
Once you've determined your Total Watt Hour requirements, your choices for the ideal Portable Power Stations become clearer.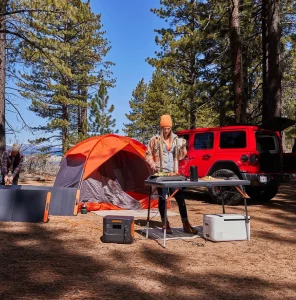 Glossary of Terms and Features:
A Portable Power Station is an investment. It's essential to understand the finer aspects of what you are buying to avoid buyer's remorse.
To help, we've broken down some of the key terms you're likely to come across:
Capacity:

Battery size and how much power it can provide.

Life/Charge Cycle:

The battery's expected life span.
Roughly calculated by the number of full battery discharges. 100% to 0% = 1 cycle. 100% to 50% = 0.5 cycles.
The capacity of a rechargeable battery decreases through time and usage. For example, 2000 cycles to 80% capacity means you can fully charge and discharge 2000 times before losing 20% capacity.

Alternating Current (AC):

The form of electricity supplied to houses and comes out of your wall socket.
So-called for the periodic reversals of direction.
Ex. Appliances, televisions, heaters. Usually, anything with a plug.

Direct Current (DC):  

Electricity that only flows in one direction.
Variety of uses, including batteries and solar panels.
Ex. your battery-powered torch uses DC.

AC to DC Conversion:

An electrical device called a converter changes the voltage from Alternating Current (AC) to Direct Current (DC).
Since your wall socket/home appliances use AC and electronics/batteries use DC, the current must be changed or converted.

DC to AC Inversion

An electrical device called an inverter changes Direct Current (DC) to Alternating Current (AC).
Ex. Inverters convert DC power from solar panels to AC power for the electric grid.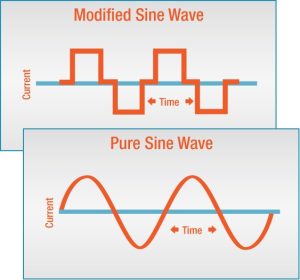 Pure Sine Wave: 

DC to AC inversion results in an electrical flow that resembles an Aztec temple (modified sine waves) rather than smooth hills (pure sine waves).
The modified sine waves will do the job; however, they can damage certain electronics (ex. CPAP machine with a heated humidifier).
A power station producing Pure Sine Waves is more efficient for AC electronics (ex., refrigerators).

Car Outlet

It's the cigarette lighter in your car you can use to charge.
DC means less energy loss than the AC wall outlet.

Uninterruptible Power Supply (UPS) 

A backup electrical source that provides immediate energy from batteries or other sources.
On the other hand, a Portable Power Station typically does not turn on automatically.
UPS's are larger and not meant to be mobile.
You might need UPS capability if you have sensitive equipment in your home or office.
Some Portable Power Stations have UPS capabilities.
Recommendations
Finally, we have arrived at our highly anticipated recommendations.  Use our advice to guide your decision-making, not make the decision for you. Do your due diligence, as everyone's needs differ.
We narrowed down our recommendations to five categories:
Best for Heavy Tech Users
Best Minimalist Option
Best on a Budget
Best for Camping
Best All-Round

An essential qualifier in this article is that the power station must be portable. Although there are many fine power stations and generators to electrify an entire household, it won't make the cut if it's a nightmare to move.
For us, the Bluetti AC200P is the ideal balance of portability and high capacity. There are much lighter options on the market, but they fit a different purpose. They can't power a family's worth of computers, protect sensitive equipment, or run power tools on a worksite as the AC200P can.
The Battery Management System (BMS) provides a whopping 3500 Life Cycle to 80%. You can also add battery expansions and solar panels to increase capacity, charging speed, and self-reliance.
If you need lots of power and outlets but still need your electric box to be mobile, the Bluetti AC200P might be your best option.
Specifications:

Capacity:  2000Wh
Charge Cycles:  3500 cycles to 80%
Weight: 27.5kg (60.6lbs)
Ports:  6 AC, 1 USB-C, 4 USB-A, 4 DC Outlets, Wireless Charging Pad

Reasons to Buy:

Uninterruptible Power Supply mode (UPS).
Great backup system for the home.
Optional battery expansions.
MPPT Charge Controller.
Power most appliances.
Impressive battery life.
17 Outputs for devices.
7 Ways to recharge.
2-hour charge.

Reasons Not to Buy:

Pricey.
No WiFi.
You don't need that much juice.

Best Minimalist Option:
Anker 521
Bells, whistles, and flashing lights are nice, but they're not necessary. Sometimes, dialling it down is the key to fewer headaches. The Anker 521 is the best option for those looking to keep it simple.
This portable power station punches way above its 4.3kg lightweight frame. A 10-year lifespan for its batteries destroys the industry average, and Unibody Drop-Proof Design protects your valuable power source from hard impacts.
The Anker 521 is a simple, easy-to-use power station that gives you enough power for the essentials without weighing you down.
Specifications:

Capacity:  256Wh
Charge Cycles:  3000 cycles to 80% capacity
Weight:  4.3kg (9.6lbs)
Ports:  2AC, 2 USB-A, 1 USB-C, and Car Outlet.

Reasons to Buy:

Unibody Drop-Proof Design to withstand use and abuse.
Rapid charging (80% in 1.5 hours with USB-C Port).
Smart Temperature Control System.
Impressively long-lasting batteries.
5-Year Full-Device Warranty.
Extra USB-C Port.
Affordable.

Reasons Not to Buy:

Only for use with small-to-medium-sized devices.
You need a boatload of power and outlets.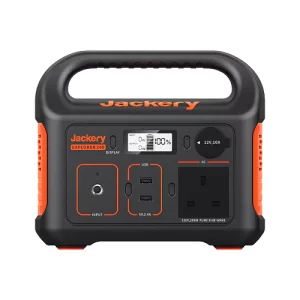 The Jackery Explorer 240 quickly became a top seller after its 2018 introduction. And for good reason. It's a fantastic entry-level option that's highly portable, great in the outdoors, and one of the most affordable options on the market.
The Anker 521 and Jackery Explorer 240 could switch categories (Minimalist vs Budget), as they're competitive in many of the same areas.
However, the Jackery Explorer 240 wins this category through consistently affordable pricing, ultralight weight, and a trailblazing reputation. Like the Anker 521, the Jackery 240 is an excellent introductory model for low-power needs.
Specifications:

Capacity:  240Wh
Charge Cycles:  500 cycles to 80% capacity
Weight:  3kg (6.6lbs)
Ports:  1 AC, 2 USB-A, 1 DC Carport

Reasons to Buy:

Built-in MPPT controller for efficient solar charging.
Comfortable carrying handle.
Excellent entry-level model.
Lightweight.
Affordable.

Reasons Not to Buy:

No torch.
No USB-C port.
You need to power large appliances.
Best for Camping: Jackery Explorer 500 
For most campers, powering and recharging electronics has become essential. Cameras, air pumps, fridges, and drones won't power themselves. This is where portable power stations shine.
Our criteria for the Best Portable Power Station for Camping consisted of three main factors; Portability, Large Capacity, and Solar Charging.
The first two criteria, Portability and Capacity, compete with each other and thus require a compromise. Typically, the larger the capacity, the less portable a unit becomes.
The Jackery Explorer 500 strikes a happy medium with a 6kg weight, compact dimensions, comfortable carrying handle, and 518Wh of Capacity.
The third criterion, Solar Charging, is a typical feature among the higher-tier portable power stations. However, not all Solar Charging is created equally, and the Jackery Explorer 500 takes advantage of Maximum Power Point Trackers (MPPT) technology. MPPT charge controllers are DC-DC converters that connect solar panels and batteries. MPPT charge controllers protect the battery, optimise solar power, and minimise energy loss. Jackery promises a 9.5-hour solar charge time. Although the 100W solar panel is sold separately, those looking to camp with their generator should strongly consider purchasing. Extend your range and reduce your reliance on the grid.
Campers will also find the powerful torch light (with an SOS blinking option) useful.
Specifications:

Capacity:  518Wh
Charge Cycles:  500 cycles to 80% capacity
Weight:  6kg (13.3lbs)
Ports:  1AC, 3 USB-A, 2 DC, 1 Car Port for low to high power appliances.

Reasons to Buy:

A great mid-range option that covers your bases.
Enough power for a weekend with the family.
Built-in MPPT controller for solar charging.
Built for use in the outdoors.
Light & Compact.

Reasons Not to Buy:

No USB-C option.
Only 1 AC Outlet.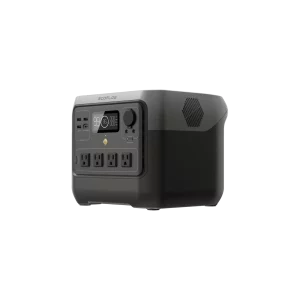 Choosing the Best All-Round Portable Power Station is like choosing your favourite ice cream. You're not wrong, but people will disagree.
Our criteria centred on finding the biggest bang for your buck. Portability vs Power was a significant factor, as were charging speed, warranty, and mobile app options.
The EcoFlow River 2 Pro delivers on all these fronts and more. While not the lightest option, it is far from the heaviest. A 5-year warranty, a mobile app to monitor power management, and an expandable capacity of up to 1440Wh make this power station perfect for those needing a reliable power source at home and the campsite.
The impressive battery life cycle is partly thanks to the Battery Management System. The BMS monitors the voltage, temperature, and current to protect and extend the battery's life.
The River 2 Pro delivers class-leading capabilities, making it arguably the best mid-range Portable Power Station on the market. You'll be hard-pressed to find a better power station for the same price.
Specifications:

Capacity:  768Wh
Charge Cycles:  3000 cycles to 80%
Weight:  7.8 kg (17.2lbs)
Ports:  2 AC, 3 USB-A, 1 USC-C Port, and DC Car Port

Reasons to Buy:

<30ms EPS Auto-Switch = rapid switchover speed when the power goes out.
Mobile app for power management and charging speeds.
Quick charging (0-100 in 96 mins).
Solar panel charging capability.
Expandable battery capacity.
10-year battery life.
5-year warranty.

Reasons Not to Buy:

No torch light.
You need more power.
Conclusion
Buying a Portable Power Station is a surprisingly personal decision.  Needs, wants, and intentions vary from person to person.  While we certainly hope our guide is helpful, you must take ownership in assessing your needs and setting your parameters.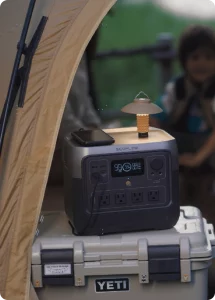 *This article was originally written for Outdoor Roadie.