The 20 hour bus ride from Buenos Aires to San Juan wasn't all that bad.  Well at least not when compared to the recent horrors of betrayal by rancid beer corrupting my gut and leaving me sweating in the fetal position.  With that literal shit show behind me, I silently applauded myself for upgrading my seat to a "cama" so that I could stretch out and get better rest on such a long journey.
With that said, 20 hours of bus travel is still long.  A very talkative, middle-aged Argentinian woman sat next to me and made for pleasant enough company, however, her sour breath and lack of personal space kept me from sleeping as I needed.
After 19 hours on the road, we stopped just off the parched highway to drop off some passengers.  The portly driver hopped out of the bus and onto the sun-drenched gravel to grab their luggage from underneath and after handing the departurers their bags, he got back on and went to start the engine.  Nothing.  He tried it again.  Nothing. With one hour to our final destination, our bus had broken down.
After a trying few days of sickness and long distance travel, the bus breakdown was more laughable than angering at this point.  Thankfully, my calm acceptance of the situation seemed to yield a shorter than expected wait-time for a replacement bus.  In just over an hour we were boarding the second coach and were away to San Juan.  Needless to say, I was ready for a shower, a beer, and to not be on a bus anymore.
From the bus terminal, I took a taxi to Hector's house to get my bike.  The only problem was that no one was home.  I had just seen Hector in Seattle the week before whilst he was visiting his son, which was a concerning surprise as I was expecting to see him in Argentina shortly.  Luckily, he promised that his brother, Juan, would be there.  But he wasn't.
After two hours and repeated attempts of social media contact (I had no phone), Juan pulled into the driveway.  What. A. Relief.
My Bike Needs Some Love
Juan spoke almost no English, so this proved to be a test at times.  My Spanish is crude and limited but enough that we could communicate in a basic sense.  Objectively, it was a little awkward for a while as we didn't know each other at all but like his brother, within 20 minutes of arriving, we were eating and drinking wine.  Disarming/Welcoming/Amazing.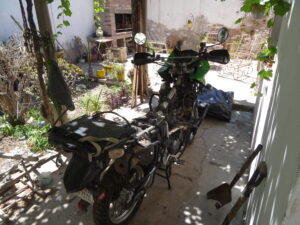 Despite Juan's calls for a siesta, I went to the courtyard in the back where my dirty, tarped motorcycle had been sitting for 6 months.  I cleaned the dust off my bike, removed the seat and then the fuel tank so that I could start the ignition process.  After sitting for half a year, I knew it would take some coaxing to get that sturdy single cylinder pumping again.
Unfortunately, during this process, I managed to break the attachment between the fuel hose and carburetor.  On top of that, this was my first time doing this and I was not confident.
I need a mechanic.  That should be easy to find.
False.
"It's the weekend.  Everything is shut down," said Juan
At this point, the stress started to mount a little.  I only planned to spend a couple of days in San Juan because of a time-sensitive rendezvous in Chile; an old teammate of mine from America was landing in the next 72 hours and I planned to link up with he and his French girlfriend in the coastal city of Valparaíso.   As it was just a short vacation for them, each day mattered and I could not afford to be late.  But what are you going to do?  No sense in worrying about it.  It's the weekend.
The Royal Red Carpet
In aid of drowning and distracting me from my inconvenient plight, the fine gentlemen of the San Juan Rugby Club, whom I had trained with and befriended last year, took me under their collective wing and did their best to make sure I didn't want to leave.  Marcos, born and raised in Texas by his Argentinian mother, was especially welcoming and made communication with everyone much easier.
A casual afternoon pool party at the rugby/field hockey club continued into a birthday party for one of the boys at Marcos' house.  Sausages, steaks, chicken, and lamb popped and spat on the grill while joints of brick weed, ice cold beers and Fernet mixed with Coca-Cola were generously passed around.  With the sun long set, I wrongfully assumed that it was time to go home. At 1:30AM, I was told to get ready to head out.  We were going to a nightclub.
Expecting a traditional nightclub setting in a downtown scene, I was a little confused as the tightly packed hatchback with oversized rugby players drove through the small city, past neighborhoods and to the outskirts where the streetlights stopped and the houses became infrequent.  Just then, I noticed spotlights twirling, bass bumping, and an increase in traffic.  Yet the semi-rural scene threw my assumptions for a wobbly.  Taking a right turn, we pulled into a grass field and up to what only can only be described as an outdoor nightclub with hundreds of people queued to get in.  I was amazed.  I don't know what I was expecting but it wasn't this.
My excitement was rapidly grounded as I approached the entrance and the true scale of the hopeful entrants line became apparent.  Oh fuck, we're never going to get in.
One of the guys I rode with, Alberto, a long haired Argentinian who lived in Hawaii, told us to follow him as he coolly marched to the very front of the line.  Leaning over the black velvet rope dividing the hopefuls from the promised land, Alberto was cheerfully received by the head of security who immediately embraced him in a hug.  Clearly they were old friends and this realization was immediately met with the velvet rope being pulled back, our crew beckoned in, and a wad of drink coupons stuffed into our hands.  Holy shit, what just happened? 
Within five minutes of getting in, I had a stiffly poured pint sized Fernet and Coke stuffed in my hand and was seamlessly introduced by Marcos to a set of English speaking twins, Catalina and Sofia.  Both were members of the San Juan Hockey Team – the club counterpart to the rugby contingent.  Sofia and Marcos were some sort of pair but Catalina took an immediate interest in me and I put up no resistance.  My relationship with Jade had finally crumbled before my departure and Catalina was a welcomed distraction from the still-healing wound.  Her adorably accented English, which was quite excellent, was mainly learned through watching American television with subtitles and she used the opportunity to practice it whenever she wasn't latching her lips onto my face.  It was a wonderful cherry on the top of a near perfect day.
Paying the Piper
As the sun began to peak its way over the horizon, we said our goodbyes and packed into the car. Arriving at the original party house around 7AM, we took a short walk in the glaring sun to get a Pancho – an Argentinian version of a hot dog.  As I went to pay, I realized that I had left my wallet and house key in the car that had just dropped us off and left.  Marcos assured me it would be found but first we needed to sleep.
Waking up on Marcos' couch in the sweltering afternoon, my eyes creaked open to take in my surroundings.  My mouth felt drier than the dusty scorched earth that filled the desert valley outside.  Sitting up with a low groan, beads of sweat clung to my forehead while the skin on my arms and legs unglued and squeaked their way off of the leather upholstery.  My hangover generously gave the sensation of a small rubber mallet incessantly checking the structural integrity of the inside of my skull – tap, tap, tap, tap, tap, tap, tap. I was in a derelict state and the piper had to be paid.
Anything short of anesthesia in an air conditioned room was going to be absolute torture.  Unfortunately, sedated recovery was not an option nor would it help me track down my wallet and key. In the hope of greasing the bearings and easing our pursuit, Marcos and I valiantly struggled to our feet to scrounge up some leftover roaches of brick weed from the night before.
With a gentle high removing the outer crustiness of our current beings, we drearily ventured out into the brightest day in humankind's existence.  The unchecked desert sun roasted every surface and exacerbated our sorry, decrepit states.  The little water left in my cells was immediately vaporized and I began to feel as though I was being mummified while I walked along.
What I thought was going to be a quick and direct rescue operation turned into one long social hour with various people and different locations, of which none were the possessors of my key and wallet.  All I wanted were my possessions and water.  Lots and lots of water.  Instead I was generously given a mixture of beer, empanadas, pizza, rugby on tv, and hanging out at various houses.  I did my best to enjoy myself but it took every ounce of remaining energy to keep going.
With the day cooling off and a little hydration going a long way, we took a short trip to the desert to watch the sun set behind the Andes.  On the way back, my trivial concerns for property and arbitrary timelines were swept away when we made a final stop for my wallet and key.  As we drove back to Juan and Hector's house, a wave of appreciation for the unending generosity and hospitality poured over me.  The last two days had been one for the books and I had the fine people of the San Juan Rugby Club to thank, once again.
Off to Chile!
After returning back to Juan's house, we managed to get my bike into a mechanic by loading it up on a truck and dropping it off.  It was a big relief knowing that my bike was in good hands, especially with a translator handy.  But I was now in a big rush to get on a bus to Santiago to meet up with my friend Ian.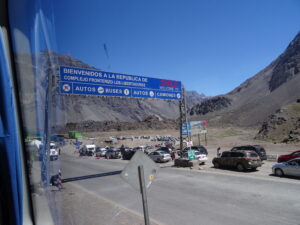 Unfortunately, despite my polite pleas to depart, Juan was a little too casual with time and I missed my bus by just a few minutes.  Silent cursing ensued but I managed to get a ticket for the following morning and I accepted my tardy fate.  My jaunt to Chile would be brief, as I was due to return to San Juan in a matter of days to continue my ride south.  But first, the colorful port city of Valparaíso with an old friend.
The journey continues:  Chapter 22:  Visions of Valparaíso
Start this journey from the beginning: Introduction