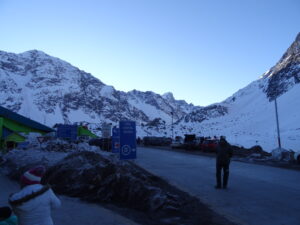 Although it felt strange to not be riding my motorcycle anymore, I was beyond content to enjoy the snowy views from the comfort of my bus seat.  Crossing the border on my motorcycle through the 10,000ft mountain pass in winter would have been a harrowing enterprise.  Doable but arguably quite foolish with the icy roads and surely an uncomfortably frigid affair.
The yerba mate toting border agents were operating at a typically lethargic pace.  There never seemed to be a moment when all agents were sitting and working.  One of them was always standing up and walking over to the thermos to fill up their gourd with hot water – leaving the next hopeful border crosser waiting in angst until they returned to start the check-in process.  Eventually I was beckoned by the next apathetic border agent who barely looked at me, stamped my passport, and welcomed me to Chile.  I was in!
Having never been to Chile before, I was thrilled to add another new experience to the list.  My only regret was that I was running out of money and time before I had to fly home.  I knew I was going to have to be strategic and strict with myself on what I spent my time and money doing.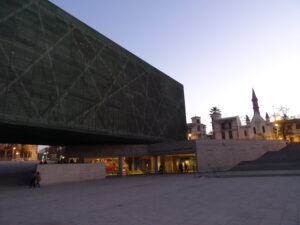 El Museo de la Memoria y Los Derechos Humanos
Toting my half dozen waterproof bags of motorcycle gear, I got into my hostel fairly late at night and crashed hard after a long day.  After a much needed sleep, I awoke the next morning to stroll through various plazas and cathedrals before arriving at the Museum of Memory and Human Rights.  This museum was erected for the countless victims of the Pinochet dictatorship that were tortured, executed, and disappeared.   Visitors begin with the traumatic upheaval of Salvador Allende's government in the 1973 military coup that allowed Agosto Pinochet to come to power and drive the country into one of the darkest periods of its existence.
While not appropriate for small children, the museum is one of the darkest, saddest, and yet most important that I have ever visited.  Exhibits of torture instruments, photographs of missing Chileans, letters to family from prisoners, newspaper clippings, and testimonies from survivors are thoughtfully presented and chillingly sobering.
Understandably, the depressive nature of this museum might not appeal to everyone.  However, considering that the Pinochet dictatorship only ended in 1990 and he was allowed to continue his position of commander-in-chief of the army until 1998, I believe that every visitor owes it to themselves and humanity to visit and reflect upon the ease in which Chile slid into fascist rule.  With authoritarian governments always lurking and waiting for their moment to strike, we all need reminders of why the never-ending scourge of fascist strongmen must always be resisted.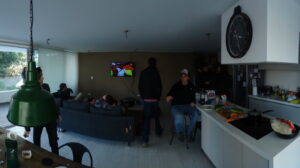 Another Rugby Friend
After the visit to the museum, it was time to link up with another rugby contact – José.  He and his roommate shared a beautiful apartment in one of Santiago's newly developed areas and they had invited a number of rugby teammates and their girlfriends over for a social gathering.  I was immediately welcomed into the fray and once again was floored by the warm hospitality of Latin America.
That day Chile happened to be playing Brazil in the World Cup. Chants of "Chi – Chi – Chi – Le – Le – Le – Viva Chile!" filled the simple but modern apartment and the surrounding neighborhood.  The support was undying and the emotions were pure.
Chile, the historic underdog ended up going to a penalty shootout before falling to the football/soccer giants of Brazil.  A tangible wave of sadness crashed over the room and undoubtedly the country.  It was as if a collective breath of hope was exhaled and anticipated disappointment was inhaled.  Chile was never expected to win the game and the depressive result echoed the sentiment that this is what always happens…
Thankfully, the Chileans, like most of South America, enjoy a good party and the mood was salvaged with Pisco, wine, food, and laughter.  Before the night got too out of hand, I decided to make my exit.  Regrettably, tomorrow I had to fly home and I didn't want to be too rusty for the endeavor.  I profusely thanked my hosts and new friends for their hospitality and expressed my hope that our paths would cross again.
I Don't Want To Go Home
The next day I grabbed all my bags and gear, squeezed onto the bus and sweatily made my way to the airport.  It was a very strange feeling to be heading back.  I was excited to see my family and friends but I wasn't ready to go home.  I had found my groove traveling on my motorcycle and there still much to see and explore.  Thankfully, I knew I'd be back in half a year as I had a mission to complete – ride my motorcycle to the most southern city in the world and sell it.
In the mean time, I relaxed into my airplane seat and gave myself a moment to marinate in my thoughts and memories of the last six months of adventure.  I had done it.  I hadn't died, despite multiple close calls.  There's no doubt I had changed but it was hard to say how.  Would it be obvious to others back home?  How am I going to slot back into life?  I feel so incredibly distant from how life was before. 
Before my existential crisis overwhelmed me, I was fast asleep.  I needed my rest before the jarring reentry into America.
Read about my return to South America:  Chapter 20:  Shitting My Pants in Buenos Aires
Start the journey from the beginning:  Introduction