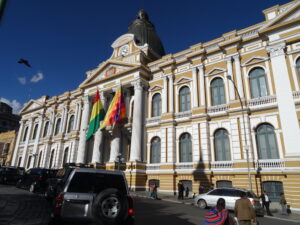 La Paz
I could go with never visiting La Paz again.  Having said that, I'm glad I experienced it.  One of the highest cities in the world, it seems to smother the steep bowl of mountains it sits in.  Seemingly devoid of much long-term city planning, La Paz is a twisting maze of overcrowded streets and exhaust fumes.  Founded by the Spanish at the sight of a native settlement in the 1500's; it has been the scene of many uprisings and revolts.  The most recent of which left bullet holes on government buildings that can still be seen.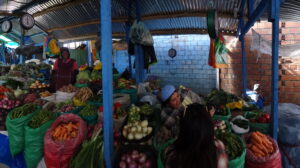 A highly recommended activity in La Paz is the Free Walking Tour.  The tour starts in the plaza outside of San Pedro prison.  This infamous prison is known for its self-contained society where the inmates police themselves, hold elected positions within the prison, run small businesses, have to buy their own cells, and where married inmates live with their wife and children.  At one point in time, San Pedro was known to produce and supply some of the best cocaine in the world; as revealed in the book Marching Powder by Rusty Young.
Following the popularity of Marching Powder and pressure by foreign governments, the Bolivian's supposedly squashed the cocaine production and disallowed tourists from entering the prison any further.  With that said, it's Bolivia, so there's a good chance you can pay someone off to get inside.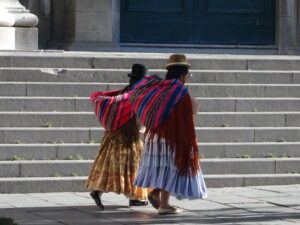 The walking tour continued for around two hours and was rather informative.   The guides covered topics from the traditional Bolivian dress and food and took us to the witches market where you can find all sorts of enchanting gifts such as dried llama fetuses.  To the native Bolivians, the fetuses are an offering to Pachamama (Mother Earth).  They are often burned and the ashes are interred under a new house for protection. Despite my objections to spending much longer in La Paz, a better understanding of the history and culture of a place will form an inextricable bond with you, no matter how different it is.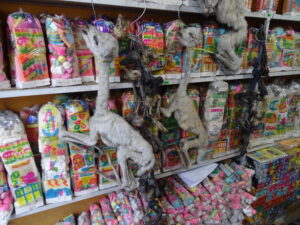 One of the drawbacks to riding a beat up motorcycle through South America is that you spend a lot of time in big cities at mechanic shops trying to keep your bike running.  The electrical outlet was not functioning on my motorcycle, my brake pads needed changing, and my suspension was really deteriorating.  More over, my bike was still making the shrill whistling scream at high RPM's and especially at altitude and in the cold weather.
Making four separate attempts to have this done by the same mechanic yielded nothing more than an oil change and some brake pads.  Much time was wasted over a period of several days going to and from the mechanic.  This is where part of my disdain for La Paz traffic developed.  The other part being the harrowing near-misadventure in trying to navigate through gridlocked barrio traffic on Bolivian Mother's Day with a barely conscious, extremely ill girlfriend on the back.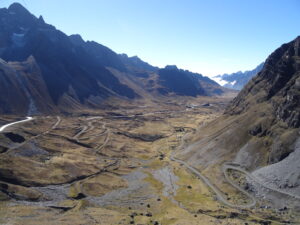 The Death Road
The official name is the North Yungas Road.  It connects La Paz to the town of Coroico and at one time was a major highway.  The notorious title of the "world's most dangerous road" originates from the number of lives that the road routinely claimed.  Some estimates state that between 200-300 people perished each year on the not quite two-lane road with blind corners and two-thousand foot drops.  Mostly devoid of guard rails, the road is littered with crosses and memorials that accompany vehicles throughout the trip.
Today, a new, safer and more efficient highway circumvents the original Death Road, which is now used by a few locals and thrill seekers.  Deaths do still happen occasionally but they are few and far between.  For me, it was a long-time dream to ride on the Death Road and so after a breathtaking ride from La Paz, I came upon the infamous dirt road.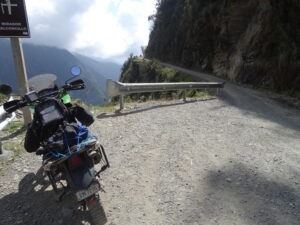 Admittedly, the beginning was a little daunting.  Between the reputation of the road and the sheer drop offs just feet away, I descended respectfully thanks to my new brake pads and amateurish off-road riding skills.  Accompanied by beautiful views beyond the thousand foot drops, the air got muggier as I descended into the warmer jungle valley.  It was welcomed after the crisp, cool air of the mountains but the mood was soured slightly by a classic Bolivian move; a toll.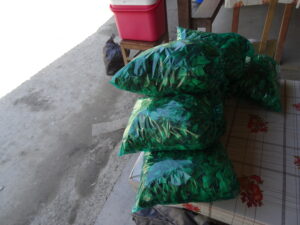 Stopping for lunch in a little town, I ate amongst bags of coca leaves, curious locals, and a Brit who was on his way to La Paz by motorcycle. I ended up deciding to go back up the Death Road rather than take the faster and safer highway.   I figured since I had already paid the toll and I did not know the next time I would be back, there was no excuse not to.  Going uphill presented the new challenge of dodging other vehicles and cyclists that were hurtling down the mountain.
The North Yungas Road was an experience to say the least.  As a reflective traveler, I am aware of the duality of this "attraction."  It is an obvious destination for thrill seekers but it is also a memorial for thousands of Bolivians who perished needlessly.
Time to Head South Again
After a few breathless adventures in the salt flats, jungle, Death Road, and the frustrating congestion of La Paz, I was plenty ready to head south again.  There was a national bus-drivers strike happening and many key highways were blocked.  Reports of vehicles being stoned and windows smashed were being shared by other travelers.  No quarter was being shown to anyone – I doubt a gringo on a bike would be spared.  The strikers/stoners would help decide my path.  But which way would I go?
Up next, Chapter 14:  The Gift of Dynamite & Coca Leaves
Start the journey from the beginning:  Introduction